Research:
2015 Automotive Buyer Influence Study 3-in-1 Infographic
Monday May 25, 2015
Article Highlights
Time spent shopping online continues to grow, and car buyers spend the largest share of their online time on Third-Party sites.
Most New car buyers use the Internet to compare vehicles and research car pricing, and Autotrader.com and KBB.com reach almost half of online New car buyers.
Online Used car buyers are spending more time shopping overall, and most use the Internet to research car pricing.
Based on the findings of the 2015 Automotive Buyer Influence Study, these three infographics reveal key data points from the latest study about the influence of media on New & Used car buyers.
ABOUT THE STUDY
The 2015 Automotive Buyer Influence Study, commissioned by Autotrader through IHS Automotive, was conducted to understand what media sources influence New and Used vehicle buyers prior to purchase. A total of 2,297 car buyers (1,313 New and 984 Used) who purchased a vehicle within the past 12 months were interviewed between August 2014 and September 2014. Quotas were set to ensure a representative sample based on the vehicle make purchased and state of residence.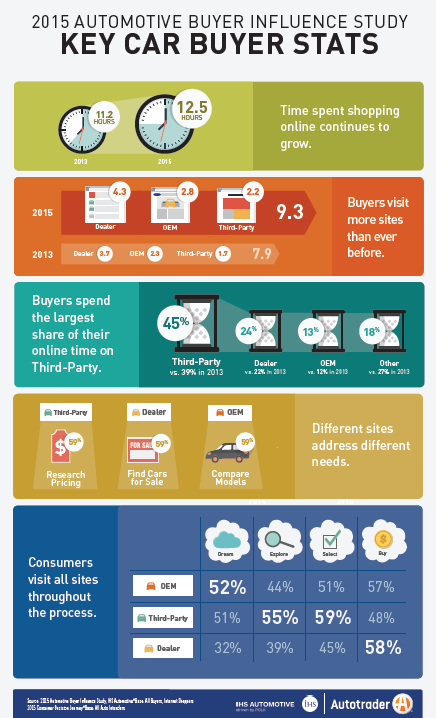 2015 Automotive Buyer Influence Study
See the full 3-in-1 infographic for New and Used car buyer insights.
Download