Insights on the influence of media among New and Used car buyers
2015 Automotive Buyer Influence Study
Thursday January 22, 2015
Article Highlights
Regardless of generation, car buyers cited the Internet as the most influential source leading them to the dealership – more than 20 times that of any other media source cited in the study. In fact, traditional media has shown a consistent decline since the 2011 study.
69% of car buyers start off knowing very little about the vehicle they want to purchase, but by the time they reach the dealership, car buyers are significantly less likely to switch the make/model they have decided on. In fact, 75% end up purchasing the same make/model they had in mind when they first visited the dealership.
The opportunity for dealers and OEMs to influence purchase decisions is online, where car buyers spend the majority of their shopping time and are making decisions about what to buy and who to buy from.
Since 2011, the Automotive Buyer Influence Study by IHS has provided groundbreaking information about the influence of media among New and Used car buyers. This 2015 study shows that the Internet continues to be the most-used and most-influential source among consumers, with Millennials leading the way in this growth. Car buyers are spending 75% of their time shopping online, and mobile device use is growing significantly.
ABOUT THE STUDY
The 2015 Automotive Buyer Influence Study, commissioned by Autotrader through IHS Automotive, was conducted to understand what media sources influence New and Used vehicle buyers prior to purchase. A total of 2,297 car buyers (1,313 New and 984 Used) who purchased a vehicle within the past 12 months were interviewed between August 2014 and September 2014. Quotas were set to ensure a representative sample based on the vehicle make purchased and state of residence.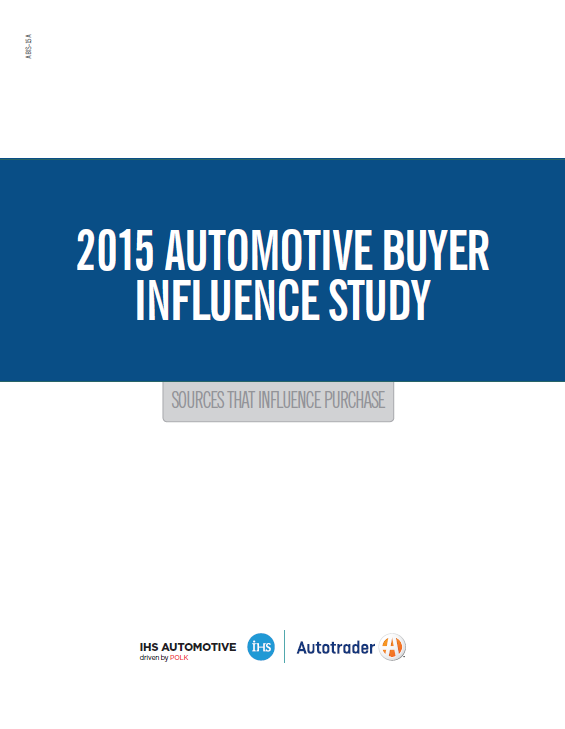 Automotive Buyer Influence Study
See the full 2015 study for more New and Used car buyer insights.
Download