Shopper Insights
2018 Car Buyer Journey Study
Monday January 29, 2018
Article Highlights
More buyers are purchasing from dealerships where they have previous experience and the number of buyers visiting multiple dealerships has been declining.
Shoppers are spending less time in-market for a car. The biggest decrease is among Used buyers, as 1 in 3 state they need, rather than want, a new vehicle.
The length of the dealership process continues to be a sore spot with buyers as less than half were satisfied with how long the process took.
The 2018 Car Buyer Journey Study explores how consumers complete the entire vehicle purchase process by exploring when, where and how consumers decide to start their research, make their decision and close the deal – and how dealers can best position themselves to be their store of choice.
In addition to continuing analyses of online shopping trends and customer satisfaction with various aspects of the dealership experience, this year's study reveals the importance of total price compared to monthly payment when researching a vehicle:

Other new findings provide insight into:
The decline of consumer time spent in-market
Where buyers start and finish their car-shopping process
How previous dealership experience impacts final purchase decision
Decline in trust and satisfaction with purchase price
About This Study
For the past five years, Cox Automotive has conducted studies designed to gain an understanding of consumer car-shopping behavior and perceptions of the dealer experience. The 2018 Car Buyer Journey, commissioned by Cox Automotive through IHS Markit, is based on a survey of 2,050 consumers who purchased or leased a vehicle within 12 months of September 13, 2017.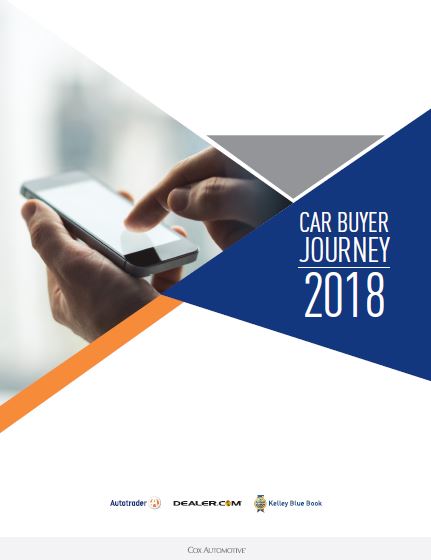 Tags