Using loyalty programs to boost customer retention
How the Best Dealers Stay Top-of-Mind
Friday July 7, 2017
Article Highlights
You might be thinking, "Why do I need a loyalty program?" These days, friendly smiles and fair prices alone won't keep your customers from going to another dealership. You need to give them something to remember besides the last time they bought a car from you or came in for service. You need a way to stand out in their minds, all the way from purchase to repurchase.
Loyalty programs facilitate regular communication and make it easier for you to deliver the positive experience and incentives customers want.
Dealers are 14 times more likely to sell to a happy customer than to a new customer. More happy customers means more repurchasing. Your retention problem is solved.
Customer retention is every dealership's goal, but few have mastered a practical way to accomplish it. And that's for a variety of reasons that have to do with modern customers and modern dealerships. Modern customers have many options for products and services besides your dealership, and it's easy for them to be choosy. Modern dealerships have specific sales figures to hit; getting a sale from one customer takes effort enough. Getting a lifetime of sales from one customer can seem lofty and unlikely. Yet retention remains the surest way to drive sustainable revenue. Which brings us back to the question of how you can achieve it. The most practical and effective way to make customer retention a reality in your dealership is through loyalty programs. Loyalty programs allow dealers to make personalized connections with customers, build relationships that last, and boost overall retention metrics — assuming the programs are easy to execute without draining too much of your sales team's time, and easy for your customers to take advantage of. Just one challenge remains: staying top-of-mind. When every customer has so many brands and so many options in front of them all the time, how do you make sure yours is the one that comes to mind when they're ready to settle down with a consistent provider?
This white paper explains:
Why customer retention is so challenging
How loyalty programs help dealers stay top-of-mind with their customers
What types of customer loyalty programs make the most sense for today's dealers — and their pros and cons
How to execute the right loyalty program for your dealership, and use the new insights you gain to convince customers to repurchase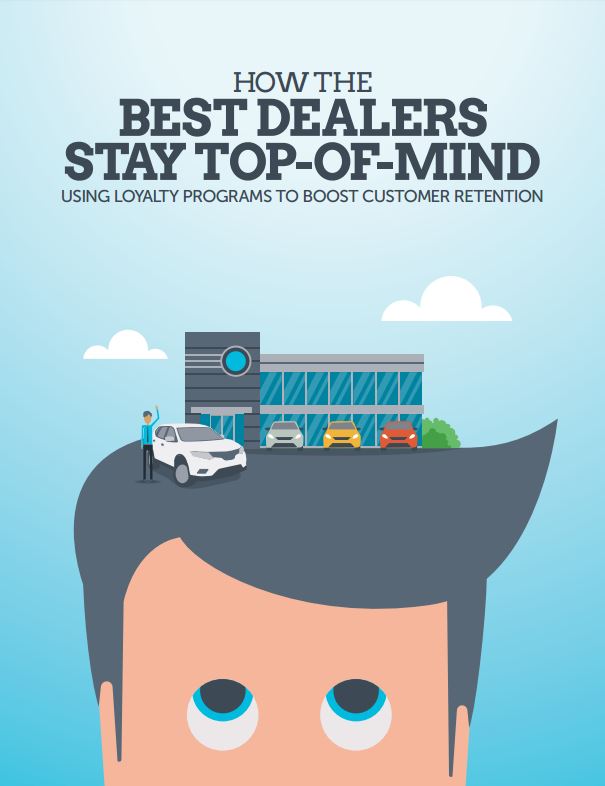 Dealership Loyalty White Paper
Learn how the best dealers stay top-of-mind using loyalty programs to boost customer retention.
Download
Tags