Get the Same Results Online as the "Big Guys"
How to Use the Internet to Level the Playing Field Between You and Your Competition
Wednesday September 2, 2015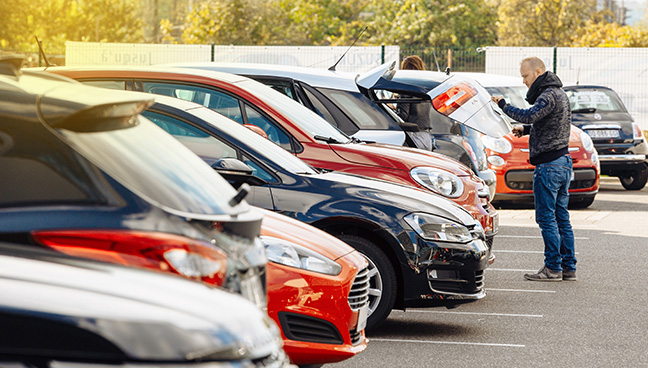 There's a misconception that dealers "of a certain size" can't compete against large dealer operations on the Internet, especially on third-party sites. The truth of the matter is that shoppers don't discriminate on the Internet between large-, mid- or small-size dealers, or whether they're a franchise or independent.1 Shoppers are looking for the best value. Today, that could be a new- or a used car from Anytown Dealer USA, because today's shoppers are highly engaged and won't stop looking until they find the right car. On Autotrader, for example, car shoppers look at an average of 264 cars before they find the perfect one.2
How Car Buyers Shop Today
Three-quarters of the car buyers who purchase from an Independent dealer use the Internet during the car-shopping process.3 That same group of car buyers spends 75% of the total time they shop for a car online.3 So it should come as no surprise that the Internet is also the most influential source leading to the dealership, even eclipsing referrals from family and friends. More significantly, 70% used either Autotrader or KBB.com in the shopping process. These websites offer ta large variety of inventory and the ability to compare new- and used vehicles side-by-side.3
9 Ways You Can Use the Internet to Level the Playing Field
Your success in advertising your vehicles online isn't based on the size of your operation. Site statistics on Autotrader show that dealers with small amounts of inventory see the same shopper activity on their listings as large dealers.2 If you want to compete with big dealers, know that you don't need a big budget. You just need to act like them.
The most useful automotive listings have custom photos of specific cars/trucks, detailed specifications, online automotive videos, vehicle comparison tools, professional reviews and consumer reviews.3 Your job is to satisfy shoppers' needs so you can influence them to look at your vehicles on third-party sites and then on your own website so you become part of their consideration set. By doing so, you can improve your chances to get your cars in front of as many in-market shoppers as possible, creating the opportunity to tell shoppers why they should choose to buy your vehicle from your dealership.
To get an idea of what you need to do to make your online presence more competitive with other dealers in your space, use the following tactics culled from top-performing dealers who generate the most activity on their listings on Autotrader.4 And remember, to compete you don't have to be big — you just have to level the playing field.
1. Find out what your competitors are doing by performing weekly searches on Autotrader and other sites so you can understand what your competitive landscape looks like. ListingLogicTM on Autotrader tells you how your listings are performing in your market against your competition, and what you can do to get maximum exposure for every vehicle in your inventory.
2. Understand what kinds of cars are in demand in your local market and begin making any necessary adjustments to your inventory mix. If you're heavy in pickups but your market wants minivans, do what you need to do to make your inventory work for your market. For example, if you're in a group or subscribe to Manheim Dealer 2 Dealer, check with your network to see if any dealers want to take some pickup inventory. If you're not in a group, think about what you can do to move those trucks as quickly as possible — wholesale or a Kelley Blue Book Instant Cash Offer are a couple of ideas — the longer you hold on to inventory that's not in demand, the more it will cost you.
3. Have an "all-car" strategy – Shoppers want to view used- and new cars together in the same search. On Autotrader, for example, 71% of shoppers consider both new- and used vehicles in their search2, so you can improve your odds of engaging them simply by treating both types of vehicles equally in terms of exposure and how you merchandise them (e.g., custom comments, plenty of custom photos, video, etc.).
4. Make sure your marketing message is consistent in all of your advertising. Consumers are bombarded with advertising messages everywhere they go. For you to make the biggest impact with your marketing, your messaging needs to be consistent across media — online and offline — on radio and TV, newspaper, direct mail, even signage on your lot.
5. Details, details, details – In addition to the year, make, model, trim level, mileage and body type you should always include in your listings, take another 15 minutes to write comments that a shopper can relate to in terms of their lifestyle and personality. For example, "You'll love how little it costs to run this fuel-sipper, plus the trunk holds a week's worth of luggage."
6. Make sure the price is right – Listings with a price and photos increase your chances of converting shoppers from the Search Results Page (SRP) to the Vehicle Details Page (VDP) by 177% versus listings without a price.2 Effective pricing is one of the most important pieces of car merchandising. If it's too high, you risk alienating the shopper altogether; too low, your profitability is at stake.
7. Promote specials – Shoppers consider special offers when choosing to buy a car from a dealer. Make sure your specials are loud and clear. Promote financing options (if you offer them), on-price sales, and any special offers or incentives that you are running.
8. Use ACTUAL photos and more photos – both exterior and interior. Listings with multiple photos of the actual car increase Vehicle Details Page views (VDP) by 347%, and listings with a single stock photo or no photos at all realize virtually no impact at 1%!2
9. Merchandise your dealership on third-party sites. Do video tours, feature testimonials, highlight your friendly staff and amenities, and promote awards, accolades and a "why buy from you" story. You've got to take every opportunity you can to convince shoppers that you're the right dealer for them.
5 More Tactics That Can Take You from "Competitive" to "Leader of the Pack"
The name of the online marketing game is to make your listings stand out from the competition. Incorporate these five platforms into your online strategy and you could have a huge advantage over the other guys.
1. Video – Post engaging videos of your car inventory on YouTube with direct links to your dealer sales site. Videos help your website's SEO ratings which could increase sales conversions. YouTube videos reach a wide audience, and shoppers know and value this widely used platform. Video is perfect for showcasing features that can't be adequately conveyed with still photography. All you need is a video camera or even a smartphone to tell a story about a car. Hint: Show the actual car, do a 360° pan-and-scan walk-around and keep the video under two minutes.
2. Chat – Today's car shoppers expect instant answers. Live chat builds a customer service edge and helps build confidence. It's also a great way to engage shoppers at the point of hesitation and bring a human touch to your dealership website.
3. Social networking – While not a tool for direct sales, social networking is a great way to keep in touch with customers and build your brand. Social networking is a long-term proposition that's all about creating an environment where you can have ongoing conversations with consumers based on interesting and unique content.
4. Reputation management – Monitor what's being said, show customers you are listening and respond to negative and positive posts in a professional manner.
5. Mobile – 42% of car buyers use multiple devices to shop for cars, up from 24% in 2013.3 The increase in mobile usage is being led by used car buyers, who show the most significant increases in using smartphones and tablets for car-shopping.3 If you've got listings on mobile-optimized sites like Autotrader, you'll be everywhere your customers and competition are.
Independent Dealers with 35 Cars or Less, check out our New Independent Dealer Packages.
Tags
Source: Autotrader Site Statistics, Oct 2015
Source: Autotrader Site Statistics, Sept 2015
Source: 2015 IHS Automotive Buyer Influence Study
Source: Rikess Group, March 2013