Economy & Trends
Key Trends of 2019 – Q3 Update
Friday November 8, 2019
Jonathan Smoke, Chief Economist at Cox Automotive, provides an update on the Key Trends that, earlier in the year, were predicted to have the greatest impact on the automotive industry in 2019.
The Economy
Economic growth has been revised slightly downward from 2.6% to 2.3% GDP for 2019 and is expected to be less than 2% in 2020.  Many factors are causing this slow down including trade uncertainty.  The risk of a recession is rising but is not inevitable at this point.
Consumer Confidence
This trend is starting to raise some alarm bells as consumers are feeling less secure about the future.  As a result, consumers start to pull back on purchasing big ticket items like automobiles.  This typically is a signal that a recession may be around the corner.
Interest Rates
At the beginning of the year, we expected to see the Fed increase rates at least two times this year, but in fact, we've seen them cut rates twice.  However, average auto rates haven't declined much.  This can be confusing to consumers who hear in the news that interest rates are going down but are not seeing that reflected in the payments they are offered when going to buy a vehicle.
Auto Loans
In September, we've seen the highest delinquency rate among subprime borrowers on auto loans that we've seen in the last 10 years, and that's going back to the Great Recession.  Now, delinquency rates are up for total loans as well.  It's not at an alarming rate, but it contributes to credit tightening among lenders.
Decline of Cars
In the summer, the decline of cars continued, with that segment's share of new vehicle sales dropping now to 29%.  SUV share increased slightly to 49%.  However, the pickup truck market has gained some momentum now, contributing to the decline of cars as well.  On a related note, the shift to more expensive vehicles continues.  As a result, affordability continues to be a challenge, and consumers are seeing fewer cars available to them to answer that challenge, causing them to purchase used instead of new.
New Vehicle Sales
Our forecast for 2019 continues to remain at 16.8 million.  However, year to date we are at 16.9 million, which implies we are expecting the last quarter of the year to be relatively weak.  If you drill down into the composition of the forecast, you will see we are expecting a continued decline in retail sales for 2020 with fleet holding steady.
Used Vehicle Sales
The used vehicle market continues to grow, and we have revised our forecast to 39.5 million from 39.4 million for 2019.  More importantly, retail used vehicle sales are being sold at an increasing rate, which is a trend we expect to continue into 2020.
Used Vehicle Prices
Performance in Q3 has definitively shown us that this year is different from previous years.  Behavior that we see in the price curve so far in the fall is relatively normal for this time of year, while the last two years have not all been normal.  By the end of the year, we expect used vehicle prices to be flat on a year over year basis.  Dealers are now no longer paying more than they had been for used vehicles, helping to stabilize their margins.
Used Vehicle Values
Used car values are relatively weak year over year, but this is because used car values were strong last year as consumers shifted away from new vehicles to more affordable used vehicles.  The best performing segment in September on a year over year basis was luxury cars, which is interesting because it had been weak all year heading into Q3.  This is a rebound telling us that luxury is starting to stabilize.
Tariffs
The Section 232 Tariff is an important threat to monitor.  This is principally focused on the EU and Japan but could extend to South Korea as well as the UK if Brexit happens.  We could have an announcement by November 18th of a new 25% tariff on all autos and parts coming from those areas.  If this happens, the market will likely see a frenzy of activity that will inevitably fall off sharply to the extent that it may be as big as a recession impacting the automotive market.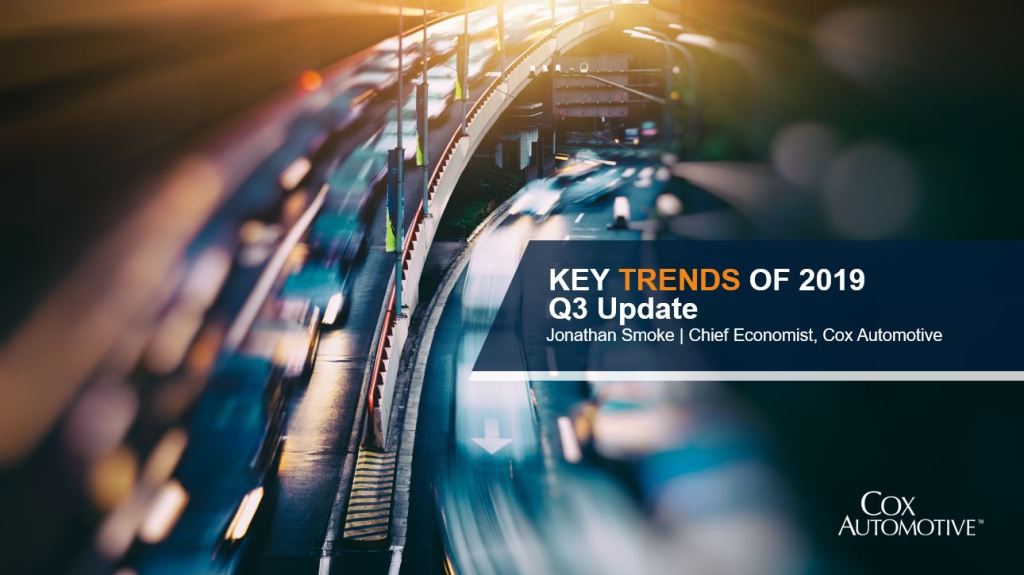 10 Key Market Trends – 2019 Q3 Update
Q3 update on the Key Trends predicted to have the greatest impact on the automotive industry in 2019.
Download