Thought Leadership Series
How to Stay in Front of Clients in this Fall's Crowded TV Ad Space
Wednesday July 27, 2016
Article Highlights
Look at your local TV station contracts, and look at cable channels away from the four major networks.
Work with your OEM and regional ad agency to know what Tier 1 and Tier 2 advertising will be in place.
Move TV dollars into digital advertising to increase your online visibility and drive more traffic to your website and walk-in traffic to your store.
This year, between July 1 and November 30, car dealers face a triple whammy: the Presidential Election, Back-to-School and the 2016 Summer Olympics. TV space will be even more difficult to come by, which will inhibit dealers' ability to get their message out effectively and maintain their momentum through the critical third and fourth quarters of the year.
Download this PDF to learn how you can maintain visibility in your local market. Also, check out these tips to steer your dealership's fall advertising strategy.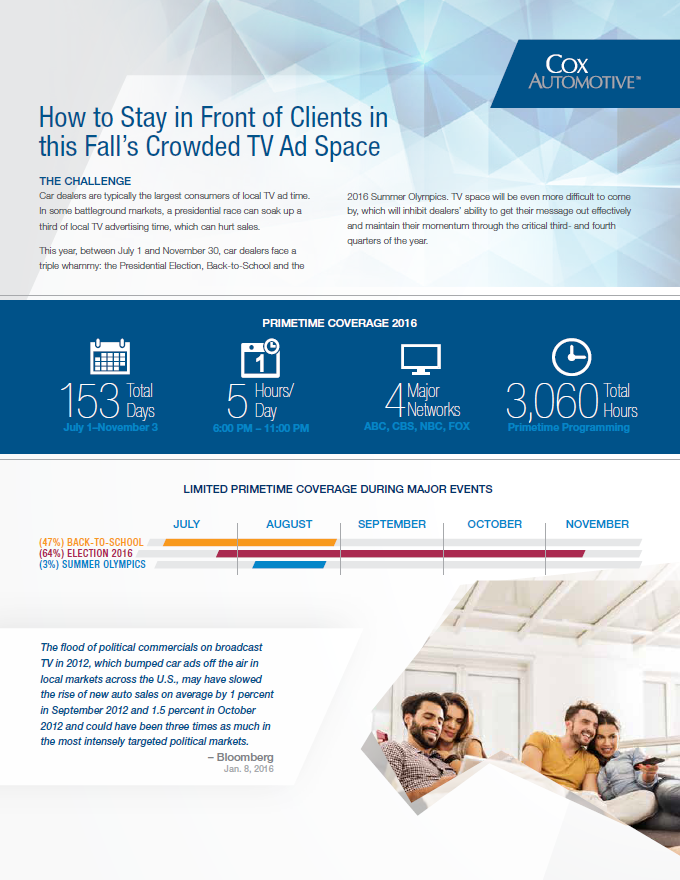 How to Stay in Front of Clients in this Fall's Crowded TV Ad Space
See the full thought leadership piece to learn more.
Download
Tags