Data Point
Wholesale Used-Vehicle Prices See Decrease in First Half of May
Wednesday May 17, 2023
Wholesale used-vehicle prices (on a mix-, mileage-, and seasonally adjusted basis) decreased 2.1% from April in the first 15 days of May. The midmonth Manheim Used Vehicle Value Index dropped to 225.9, which was down 7.0% from the full month of May 2022. The seasonal adjustment contributed to the decline. The non-adjusted price change in the first half of May declined 0.9% compared to April, while the unadjusted price was down 7.5% year over year.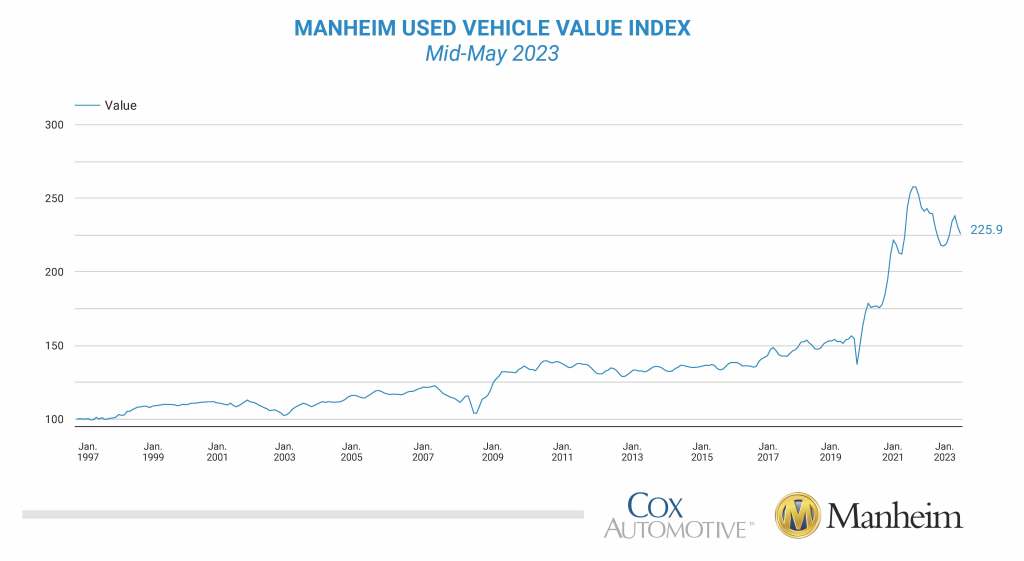 Over the last two weeks, Manheim Market Report (MMR) prices were nearly unchanged compared to the end of April. Prices in the first two weeks of May have been generally flat over the last four years, with average changes between ‑0.1% and 0.1% since 2019. Over the first 15 days of May, MMR Retention, the average difference in price relative to current MMR, averaged 99%, indicating that valuation models remain slightly ahead of market prices. The average daily sales conversion rate of 59.5% in the first half of May declined relative to April's daily average of 60.3% and was below the May 2019 daily average of 59.9%.
All eight major market segments saw seasonally adjusted prices that were again lower year over year in the first half of May. Only pickups and compact cars, at 3.9% and 6.6%, respectively, lost less compared to the overall industry in seasonally adjusted year-over-year changes. The remaining segments lost between 7.4% and 14.3%, with sports cars losing the most. Seven of the eight major segments saw price decreases compared to April, with losses ranging from 1.7% to 7.0%, while vans were flat.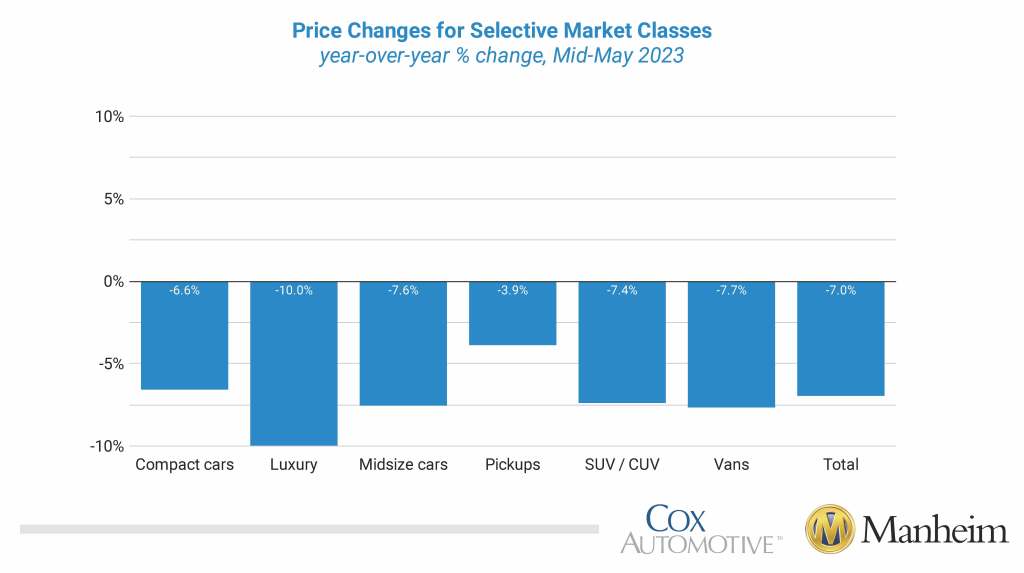 Retail Used-Vehicle Supply Lower in Mid-May
Using estimates based on vAuto data as of May 8, used retail days' supply was 43 days, which was down one day from the end of April. Days' supply was down eight days year over year and down three days compared with the same week in 2019. Leveraging Manheim sales and inventory data, we estimate that wholesale supply ended April at 25 days, up two days from the end of March and down one day year over year. As of May 15, wholesale supply was at 24 days, down one day from the end of April, down two days year over year, and flat compared to 2019. Used retail supply measured in days' supply and compared to 2019 suggests supply is slightly below normal for this time of year, indicating some mismatch between demand and supply despite persistent but improving low inventory levels.
Rental Risk Prices Increase Again in First Two Weeks of May
The average price for rental risk units sold at auction in the first 15 days of May was up 3.7% year over year. Rental risk prices were up 1.7% compared to the full month of April. Average mileage for rental risk units in the first half of May (at 58,500 miles) was down 7.9% compared to a year ago and down 1.9% month over month.
Tax Refunds in 2023 Down Compared to Last Year in All Key Metrics
While the 2023 tax refund season started faster than last year in terms of distribution of refunds, 2023 is behind 2022 on all key metrics. With statistics through the week ending May 5, $263 billion in refunds have been issued. The number of refunds issued is down 1% from last year, 8% less has been disbursed than last year, and the average refund at $2,803 is down 7% year over year.
---
The complete suite of monthly MUVVI data for April will be released on June 7, 2023, the fifth business day of the month, as regularly scheduled.
For questions or to request data, please email manheim.data@coxautoinc.com. If you want updates about the Manheim Used Vehicle Value Index, as well as direct invitations to the quarterly call sent to you, please sign up for our Cox Automotive newsletter and select Manheim Used Vehicle Value Index quarterly calls. The next call is scheduled for Monday, July 10, at 11 a.m. EDT.
---
Note: The Manheim Used Vehicle Value Index was adjusted to improve accuracy and consistency across the data set as of the January 2023 data release. The starting point for the MUVVI was adjusted from January 1995 to January 1997. The index was then recalculated with January 1997 = 100, whereas prior reports had 1995 as the baseline of 100. All monthly and yearly percent changes since January 2015 are identical. Learn more about the decision to rebase the index.
Tags