Commentary & Voices
Q2 2020 Kelley Blue Book Brand Watch Report: Luxury Vehicle Shopping Falls to Lowest Level in Two Years
Wednesday August 19, 2020
Article Highlights
Top luxury markets are hardest hit by coronavirus.
Top-selling luxury makes have the lowest inventories.
BMW still tops on strength of new 5 series while Tesla Model 3 remains most-shopped luxury vehicle.
The coronavirus pandemic caused luxury vehicle shoppers to retreat more than non-luxury vehicle buyers. Shopping consideration for luxury vehicles in the second quarter slumped to its lowest level in more than two years, according to the Kelley Blue Book Brand Watch™ Report for Q2 2020. Similarly, U.S. luxury vehicle sales fell 35% in the second quarter of 2020.
The Brand Watch Report is a consumer perception survey that also weaves in consumer shopping behavior to determine how a brand or model stacks up with its segment competitors on a dozen factors key to a consumer's buying decision. Kelley Blue Book produces a separate Brand Watch Report for non-luxury and luxury brands each quarter.
Of all new vehicle shoppers in the second quarter, only 34% considered a luxury model, the lowest percentage since the 2018's first quarter, according to Kelley Blue Book Brand Watch. That compares with the most recent peak of 39% in the third quarter of 2018. Luxury shopping consideration had been in decline since late last year, likely because non-luxury SUVs offer as much technology and features as luxury ones at a better price. Then the pandemic hit, and luxury shopping consideration fell further.
Cox Automotive predicted the luxury market – particularly the very high end – would be among the last vehicle segments to recover since luxury vehicles are a discretionary purchase and can be delayed. Many are leased, and leases were extended as people couldn't return to showrooms to select their next vehicle.
Also, New York City was the nation's epicenter for COVID-19 in spring, and it is one of the nation's top two luxury markets. The other is Los Angeles, another hot spot for the virus. Indeed, the Northeast saw the steepest quarter-to-quarter decline in luxury vehicle shopping compared to other regions. However, since then, it has been snapping back.
Luxury leaders lack inventory
As shoppers began to return to market in the latter part of Q2, inventory was a problem, according to a Cox Automotive analysis of vAuto Available Inventory data. German and Japanese luxury makers were particularly low on inventory. Lexus ended the second quarter with a scant 41 days' supply, among the lowest of both luxury and non-luxury automakers. BMW had 57 days' supply and Mercedes-Benz 59. Those three brands typically vie for the luxury sales crown every year. Their inventories continued to fall further through July and August, with Lexus and BMW now under 40 days' supply. It may turn out that the winner of the 2020 luxury vehicle sales crown will be the make that has the most vehicles available for sale.
BMW remains the one to beat for shoppers
BMW has been the No. 1 considered luxury brand since Q3 2018, likely due to its well-balanced portfolio of cars and SUVs. In the second quarter, BMW got a boost from a minor facelift on the BMW 5 series that made its debut just before the pandemic. BMW supported the revamped 5 series with compelling lease deals. That gave the 5 series the biggest increase in shopping consideration of all models – up 71% – enough to push the car to second most-shopped luxury model in the quarter from 11th in the first quarter, behind Tesla Model 3. The 5 series' gains offset rather hefty declines in consideration for the 3 series and X5.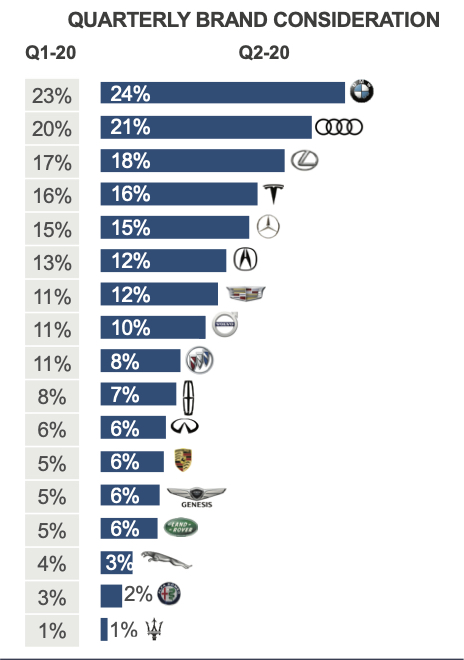 Audi was the second-most shopped luxury brand by gaining a bit, thanks to the Q5 crossover, which saw a 27% spike in shopping consideration, helped by leasing promotions. The Q5 won the 2020 KBB Best Buy Award earlier this year. The Audi brand may have an advantage going forward as its shopping consideration is up, and it has more inventory than other luxury brands.
Lexus maintained its spot as the third-most shopped luxury brand and also gained a bit, even though shopping consideration for its volume model, the RX SUV, slipped but remained the most-shopped luxury SUV.
Tesla held onto its position as the fourth most-shopped luxury brand for the second consecutive quarter. Shopping for the Model 3 sedan fell, though it maintained its place as the most-shopped luxury vehicle. Shopping for the new Model Y crossover showed promising growth from the first quarter.
The rest of the rankings were mostly steady. Buick had the biggest drop in shopping consideration, from 11% in Q1 to 8% in Q2. Buick is revamping its product line to be an SUV-only brand as it sells down its car models.
Tesla and BMW had the most models in total on the top 10 list of most-shopped vehicles.
Luxury SUV consideration slips, cars gain
Shopping consideration for luxury SUVs decreased slightly to 62% of all luxury shoppers considering an SUV in Q2 compared with 64% in Q1, which had been at peak levels for a couple of quarters. Still, SUV consideration remains above the year-ago levels of 60% of all luxury shoppers.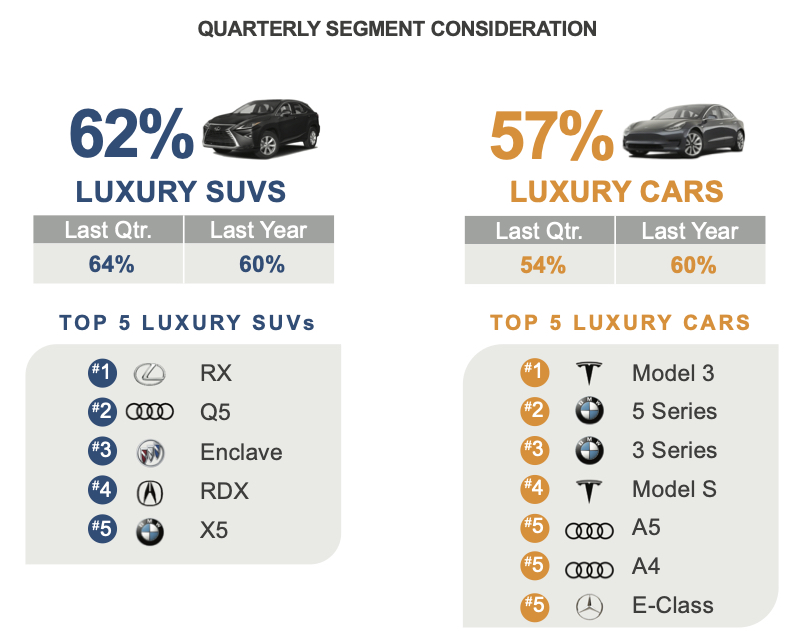 The Lexus RX nabbed the top spot for luxury shopping consideration for the second consecutive quarter, after surpassing the Acura MDX in Q1. In Q2, the MDX fell off the top five most-shopped SUV list completely.
The Audi Q5 took the No. 2 spot that MDX had held, climbing from sixth place last quarter. The Buick Enclave, Acura RDX and BMX X5 rounded out the list of five most-shopped SUVs. Tesla Model Y, which made its debut on the top 10 list of most shopped luxury SUVs in Q1, stayed on the list, though it slipped from 9th to 10th place.
In contrast to the non-luxury sector where car consideration continues to fall, shopping consideration for luxury cars increased to 57% in Q2 from 54% in Q1 but is below the 60% of the year-ago quarter. Four of the top 10 most-shopped luxury vehicles were cars, up from three in Q1.
Tesla, BMW and Audi each had two car models in the top five most-shopped luxury cars. The refreshed 5 series surpassed the 3 series, landing in the No. 2 spot for the first time ever.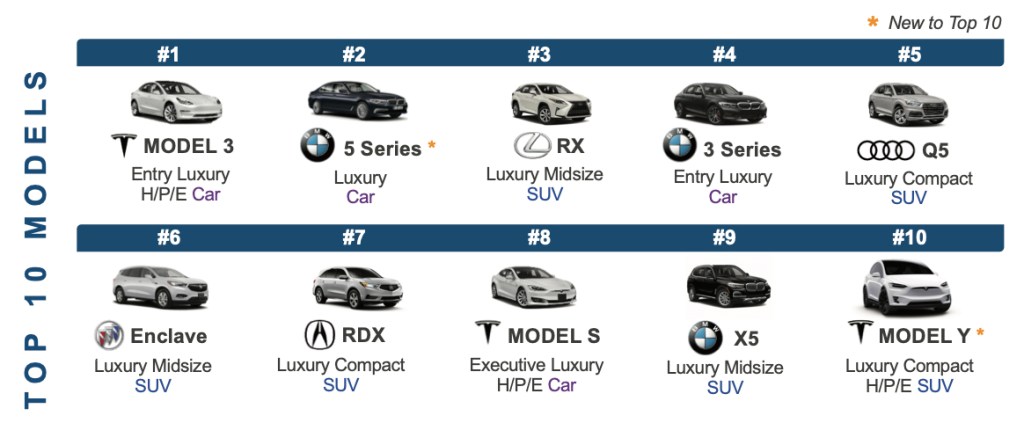 Even though Tesla Model 3 consideration declined from Q1, it has remained the most considered luxury vehicle since Q2 2019. Lexus ES made strides in consideration and garnered respectable sales in the entry-level luxury car segment.
Tesla scores a comeback
The top four factors most important to luxury car shoppers have remained consistent for the past five years. However, Technology has jumped from 10th to 5th most important for luxury shoppers in the past five years as they demand more connectivity and driver-assist features. With Tesla in the mix, consumers may also expect improved electric vehicle technology.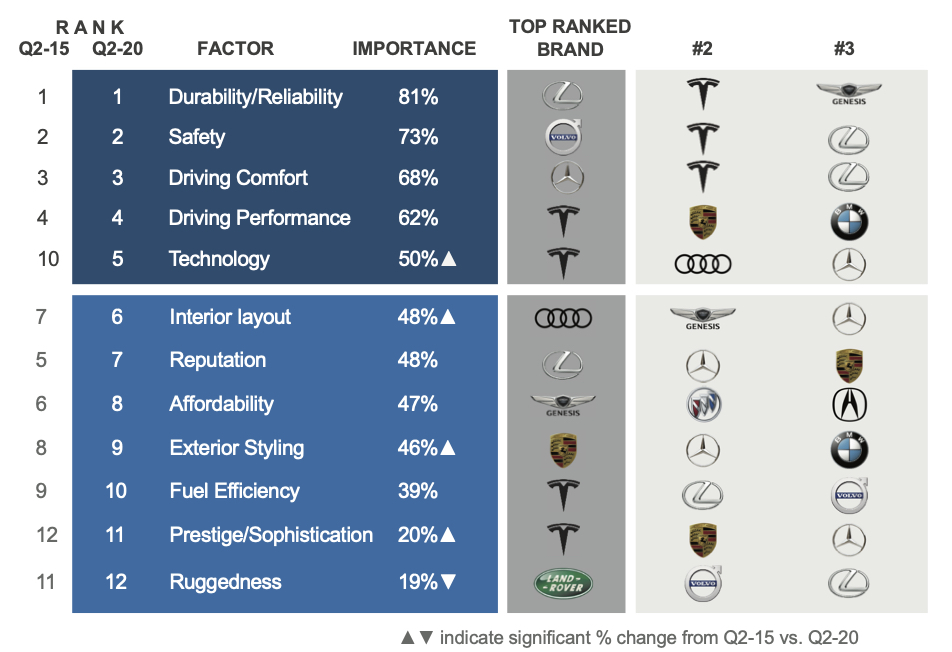 Since Q3 2014, Lexus is the top-ranked brand for Durability/Reliability, by far, the most important factor for shoppers of luxury and non-luxury vehicles. It maintained that spot once again in Q2. Lexus was also first in Reputation.
Similarly, Volvo has held the top spot for Safety, the second most important factor by a wide margin, since Q4 2014, and it held onto its position in Q2.
Tesla gained ground in important factors in Q2, taking four No. 1 spots, up from three in Q1 but below the half-dozen it had last year. Tesla also grabbed three second-place spots, an improvement in from the first quarter.
Tesla remained in the top spot for Technology, a position it has held since Q1 2017. It also nabbed the top spot in Driving Performance from Porsche in Q2. Also, in Q2, Tesla was the top-ranked brand for Fuel Efficiency, thanks to its all EV line-up, and Prestige/Sophistication.
Mercedes-Benz secured the top spot for Driving Comfort in Q2. Mercedes had reclaimed its lead in the category in Q1 after a three-year absence.
Land Rover kept its first place for Ruggedness, a spot it has held since Q1. 2014.
---
The Q2 2020 Kelley Blue Book Brand Watch Report – Non-Luxury is also available.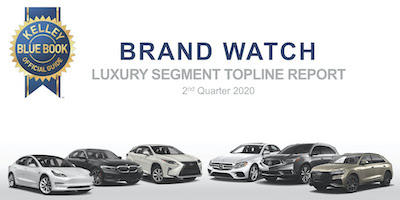 Download Q2 2020 Kelley Blue Book Brand Watch – Luxury
Read the full report.
Download
Tags