Data Point
Used-Vehicle Average Listing Price Sets Record; Jumps Above $25,000
Thursday July 22, 2021
Article Highlights
Average used-vehicle price sets new record at $25,101.
Used-vehicle inventory improved as July opened but remains below 2019 levels.
Days' supply edged up to 41, mostly due to slowing sales pace.
Used-vehicle prices set another record at the end of June, according to a Cox Automotive analysis of vAuto Available Inventory data.
---
2.40M
Total Unsold
Used Vehicles
end of June
$25,093
Average Listing Price
---
Topline data revised August 18. Story content has not changed.
The average listing price for used vehicles surpassed the $25,000 mark for the first time – $25,101 to be exact. That compares with $24,414 a month earlier. Only a year ago, the average listing price hit the $20,000 mark. It has been rising ever since. The average listing price was 26% higher than the end of June 2020 and 29% higher than 2019.
AVERAGE USED-VEHICLE LISTING PRICE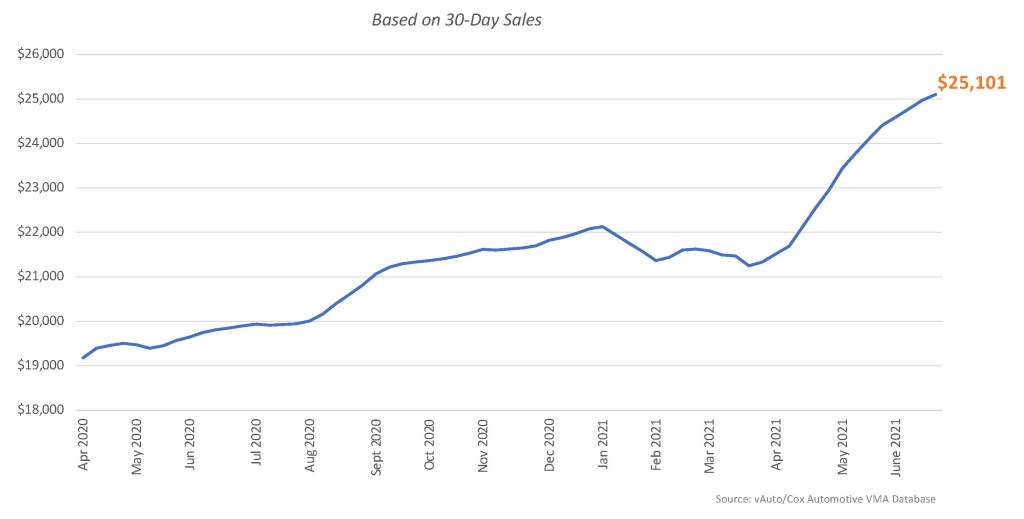 The total supply of unsold used vehicles on dealer lots across the U.S. stood at 2.45 million vehicles at the start of July, up from 2.38 million units at the start of June. The used-vehicle inventory was 6% above the same time in 2020 but 11% below 2019.
"While new-vehicle inventory continues to drop, the used-vehicle market is showing small signs of improvement, with slower sales allowing inventories to creep upward," said Charlie Chesbrough, senior economist, Cox Automotive. "With wholesale prices of used vehicles beginning to retreat from record highs, the worst of the supply crunch in the used market may be behind us."
The used-vehicle days' supply entering July was 41, up from 38 the month before. The days' supply for used vehicles has been on an upward trend since early April when used-vehicle sales peaked and then began to slow. By the end of June, the sales pace was running 13% below 2020 and 3% below 2019 levels.
The Cox Automotive days' supply is based on the daily sales rate for the most recent 30-day period, which ended June 28.
Franchised dealers had nearly 1.45 million vehicles in inventory at the end of June, up from 1.44 million at the end of May. That put the days' supply at 39, compared with 37 a month earlier. The average listing price for used vehicles on franchised dealer lots was a record $27,013, up from the previous record of $26,201.
Independent dealers had 989,439 vehicles in inventory at the end of June, up from 945,607 vehicles. The average listing price was a record $22,161, beating the previous record of $21,677 a month earlier.
The average number of miles on used vehicles in inventory edged higher again to 68,613 as July opened after dipping slightly the month before. The average miles on used vehicles on franchised dealers' lots rose to 62,427 and 78,913 on independent lots.
---
More insights are available from Cox Automotive on used-vehicle inventory, using a 30-day rolling sales methodology to calculate days' supply.
---
Michelle Krebs is executive analyst at Cox Automotive.
Tags