Data Point
Average Used-Vehicle Asking Price Falls to Lowest Level Since April
Thursday November 17, 2022
Article Highlights
The average used-vehicle asking price slipped below $28,000 to the lowest level since April.
Used-vehicle inventory remained steady, matching pre-pandemic 2019 levels.
Asking price gap with 2021 is on track to disappear this month.
Revised, Dec. 16, 2022 – Used-vehicle asking prices fell throughout the month of October to their lowest average since April as inventory matches pre-pandemic 2019 levels, according to the Cox Automotive analysis of vAuto Available Inventory data.
---
2.44M
Total Unsold
Used Vehicles
as of Oct. 31, 2022
$27,578
Average Listing Price
---
The total supply of unsold used vehicles on dealer lots, both franchised dealers and independents, across the U.S. stood at 2.44 million units at the close of October, about the same as it has been for the past few months but 10% higher than in October 2021 and close to pre-pandemic 2019 levels.
Total days' supply at the end of October was stable at 53, compared with the revised 53 days' supply at the end of September. Days' supply in October was 26% above year-ago levels. Used-vehicle inventory has been holding at about this level since mid-January.
The Cox Automotive days' supply is based on the daily sales rate for the most recent 30-day period, in this case, ending October 31. Sales in the period were 1.43 million vehicles compared with the revised 1.40 million for the equivalent 30-day period in September. For the full calendar month of October, Cox Automotive estimates used retail sales rose slightly month over month and were down 13% from a year ago. Certified pre-owned sales slipped by 4% from a year ago but increased 3% from September.
The average listing price was $27,578 at the end of October, down from the revised $28,266 at the end of September. That price is only 2% ahead of a year ago.
Average Used-Vehicle Listing Price Pace of Decline Rising
Price growth now falling – trend suggests reaching 0% growth before Thanksgiving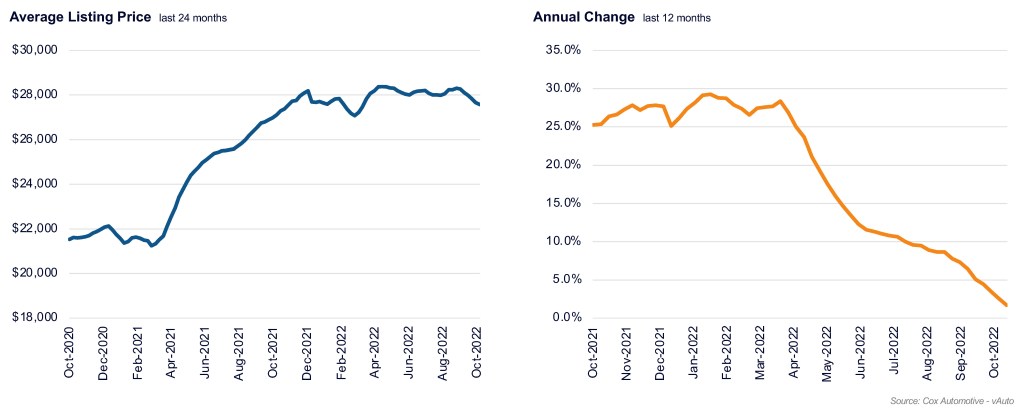 "Asking prices are finally reflecting lower wholesale prices," said Charlie Chesbrough, senior economist, Cox Automotive. "By Thanksgiving, the price gap between this year and last year, now at 2%, will likely be gone."
As with new cars, the lower the price the tighter the inventory. With every $10,000 increase in price category, the days' supply increases. Days' supply for under $10,000 vehicles is 33. At the opposite end of the spectrum, days' supply for vehicles over $35,000 is 68.
Brands with the lowest days' supply of used vehicles – under 50 – Honda, Hyundai, Lexus, Mazda, Toyota and Volkswagen.
---
For more insights on used-vehicle inventory using a 30-day rolling sales methodology to calculate days' supply, reach out to the Cox Automotive Public Relations team.
---
Michelle Krebs is executive analyst at Cox Automotive.
Tags