Data Point
Used-Vehicle Supply Stabilizes; Prices Climb
Wednesday September 16, 2020
Article Highlights
Average used-vehicle list price surpassed $21,000 for the first time.
Used-vehicle supply edges up in total volume, 37 days' supply.
Inventory of under $10,000 vehicles is extremely low.
Used-vehicle prices keep rising while the inventory of unsold used vehicles stabilizes and even slightly improves in contrast to new-vehicle inventory that is falling, according to a Cox Automotive analysis of vAuto Available Inventory data.
As of the start of this week, the total U.S. supply of unsold used vehicles stood at 2.23 million, edging slightly up from a month ago when it was 2.20 million and even up from 2.12 million in the same week a year ago.
---
2.23M
Total Unsold Used Vehicles
as of Sept. 14
$21,111
Average Listing Price
---
With the daily selling rate high for used vehicles, however, the days' supply remained suppressed at 37 to start the week, compared with 48 days' supply a year ago. The days' supply has held in the 35 to 37 range for the past four weeks after being in the 32 to 35 range since mid-June. Demand for used vehicles is strong, and the usual supply sources for them have been disrupted, causing a drawdown of inventory.
"The inventory situation for the used market is tight, but it is also stable," noted Charlie Chesbrough, Cox Automotive senior economist. "Days' supply hasn't changed much over the last two months, suggesting that selling rates and available inventory are changing at similar speeds."
The average used vehicle listed set yet-another record, surpassing the $21,000 milestone. Specifically, the average used vehicle was listed at $21,111, according to a Cox Automotive analysis of vAuto Available Inventory data. In the same week of September 2019, the average listing price was at $19,350. At the depth of the pandemic, the week of March 23, the average list price bottomed out at $18,681. It has been on the rise ever since, opening August with the average listing hit $20,000 for the first time and has been on the rise throughout the month.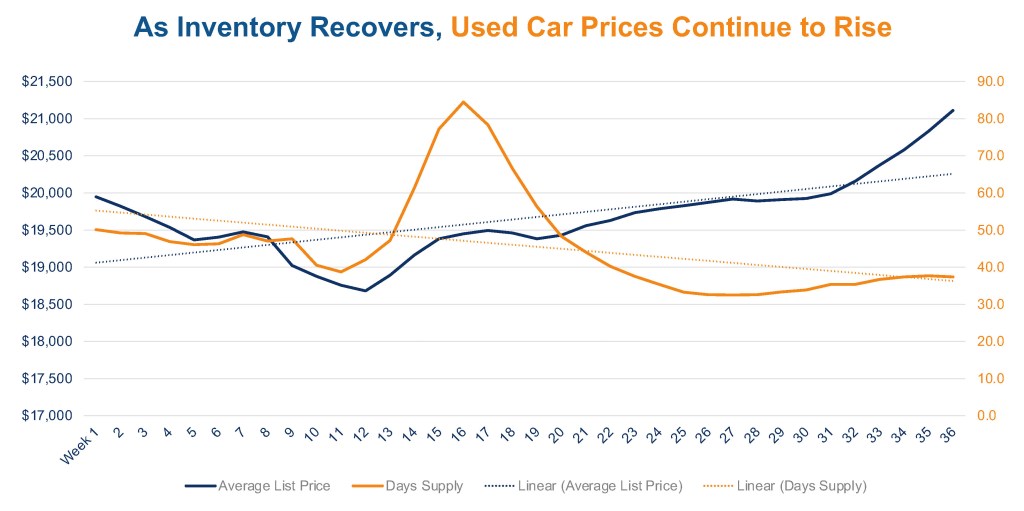 New-vehicle prices are also rising. Valuation analysts at Kelley Blue Book reported the estimated average transaction price in August for a new light vehicle in the United States was $38,635.
"The rise in used vehicle prices may actually help new vehicles sales," said Chesbrough. "Since vehicle prices are rising substantially in the used market, there are fewer deals to be found. Some shoppers may decide to buy new because the relative difference from used is not as great as it was."
As is the case with new-vehicle inventory, Toyota and Subaru have the lowest supply of used vehicles, according to the Cox Automotive analysis of vAuto Available Inventory data. But almost every mainstream non-luxury and luxury brand have less than 40 days' supply. The exceptions are Buick at 43 days' supply and Cadillac at 62; those brands also have an overabundance of new vehicles.
In terms of price, used vehicles that listed for under $10,000 had the lowest inventory with only 28 days' supply, up a bit from a month ago. All other price categories had days' supply of 36 to 39, also up some from a month ago.
Initial Cox Automotive estimates show that used-vehicle sales were down 4% in August compared with a year ago. The August used SAAR was 38.0 million, down from 39.7 last August but unchanged from July, suggesting momentum is tapering off. The August used retail SAAR estimate was 20.3 million, down from 20.7 million last year and slightly down July's 20.4 million. CPO sales decreased 9% from a year ago and were down 6% from July. CPO sales are down 9% year to date through the end of August.
Tags