Smoke on Cars
What Biden's Narrow Victory Means for the Auto Industry
Tuesday November 10, 2020
Last month, and following the established projections at the time, I posted initial thoughts on how a Biden administration, supported by a blue wave of Democratic support in both the Senate and the House, would influence the auto industry and economy in the coming years.
The projected blue wave never arrived and, instead, appears to be hardly more than a slow rising tide. Now, a week after Election Day and with lawsuits and challenges swirling, Biden is projected to win the presidency and the Senate has hardly shifted. In some races, run-offs will decide the final outcomes.
From where we stand today, most of the positives I called out last month remain in place, although some are reduced in intensity and likelihood. Importantly, the biggest positives for the auto industry remain in place, particularly on trade and stimulus, and this might be where we can expect Biden's ability to work across the aisle to get something done, which in turn raises the likelihood of later infrastructure investment.
Environmental executive actions will still go forward and the ongoing lawsuits and battles with the California Air Resources Board will likely be dropped. That's a positive for manufacturers, who are looking for direction on fuel economy and are supportive of a national standard, but I stand by my view that the higher fuel economy standards will be a negative in terms of affordability and size of the vehicle market. EVs will get more support and, potentially, even incentives. As before, I believe this is a positive as it better aligns the U.S. marketing with global realities – EV popularity is growing in Europe and China.
Without full support in Congress, the biggest negative of a Biden administration – sweeping tax policy – will be harder to achieve. That's good for maintaining luxury demand and avoiding anything outlandish with corporate taxes that could complicate depreciation of fleet vehicles.
We have summarized our key points in the chart below.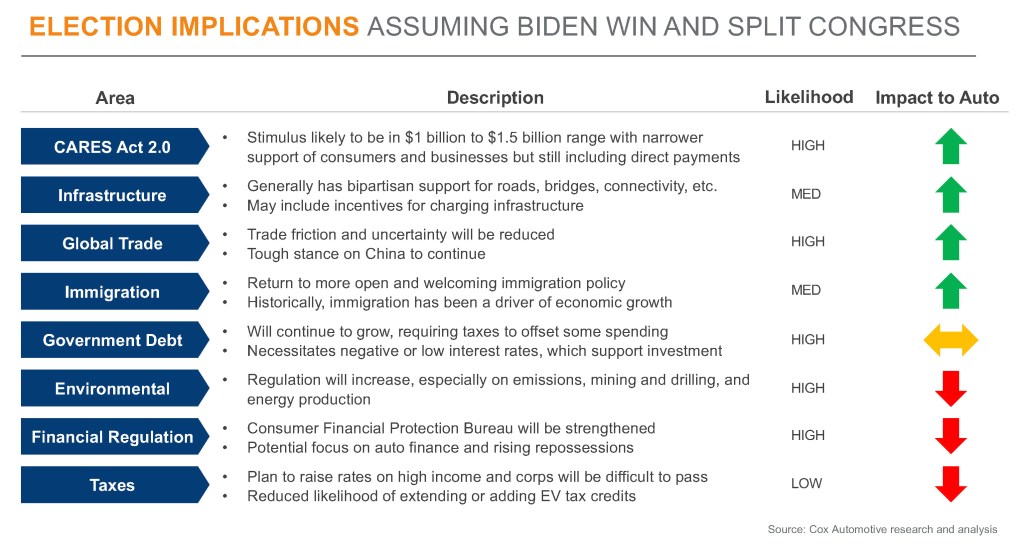 All in, a Biden win without the projected blue wave may be better for the medium term for the automobile industry. What really hangs in the immediate balance is stimulus. The coming debate will be a measure of the government's ability to come together and address what's needed to get us through the pandemic. We still believe a stimulus package is in the offing; it just won't be as big now that the blue wave never materialized.