Smoke on Cars
Auto Market Weekly Summary
Monday April 15, 2019
Despite tame inflation, Fed patience with raising interest rates, wage gains and other positive economic signs, consumers are increasingly nervous, not about today, but about the future.
Consumer sentiment dips: The initial reading on Consumer Sentiment from the University of Michigan fell in March, and the April initial reading was also below forecast. Consumers are becoming more nervous about the economy slowing. Such fears will likely lead to softer consumer spending. Indeed, consumers reported worsening buying conditions for vehicles and homes.
Inflation in check: Inflation remains under control and under the Fed's target. With tame overall inflation, wages continue to see real growth, which benefits consumers. Real hourly earnings grew in March from the year before though were down from February. Still, consumers are better off on average with wage growth outpacing inflation.
Patience on rates: The Fed remains patient on increasing rates further. At the same time, the Fed governors are also more optimistic about improving economic growth later in the year that could lead to higher rates. The stock market thinks otherwise about higher rates.
Gas prices rise: Gas prices have increased quickly and are now higher than last year. The hike hits consumers' pocketbooks immediately. Unlike the Fed, consumers are becoming less optimistic about the future as a result.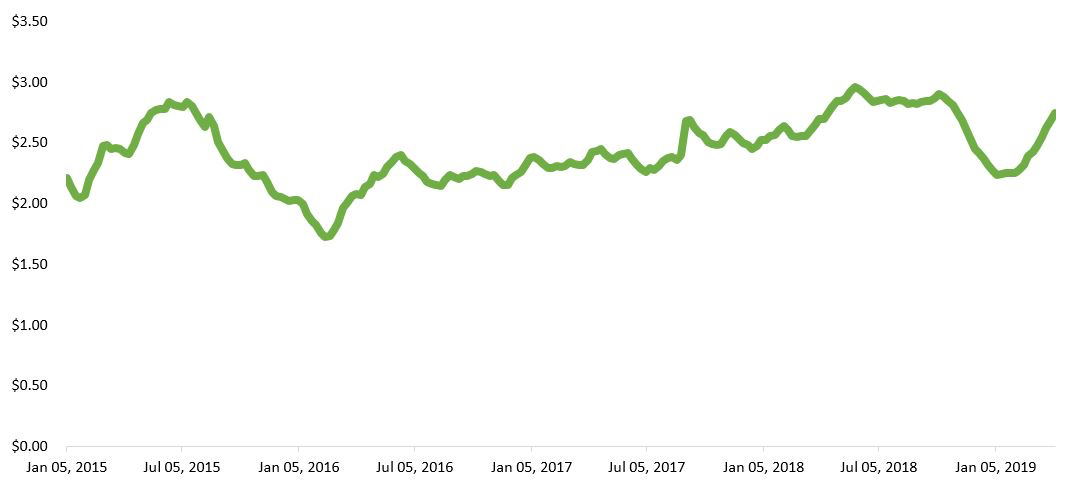 Source: Energy Information Administration
Tax refunds boost used sales: Tax refunds have been a negative for the broad economy as refunds are $6 billion less this year than last year. However, refunds are up with the segments that matter to the used car market. As a result, used car prices are seeing strong gains. Consumers who drive the spring used-car market appear to be getting good refunds. As a result, the traditional spring bounce in used-car sales and prices continues. Non-luxury vehicles are seeing the biggest price gains and are now higher in price than the beginning of the year. The used spring bounce is likely to last a couple more weeks. Read more in my latest post here.
Looking ahead: This week, we'll get March retail sales and new construction data, the report from the International Trade Commission on the USMCA and updated tax refund data.