Economy & Trends
Cox Automotive Dealer Sentiment Index – Fourth Quarter 2017
Monday December 11, 2017
Article Highlights
U.S-based automobile dealers are optimistic about the first quarter of 2018 and believe inventory issues of earlier this year have mostly subsided, according to insights found in the fourth-quarter Cox Automotive Dealer Sentiment Index.
Despite a healthy sales environment during the survey period, both franchise and independent dealers continue to feel pressure to lower prices, experience high costs of running their business, and report weak customer traffic.
"Although price pressures and costs are working against them, we continue to be encouraged by the fact that dealers are optimistic about market prospects," said Cox Automotive Chief Economist Jonathan Smoke. "U.S. auto dealers are expecting a strong market in the first quarter of 2018."
Derived from a quarterly survey that Cox Automotive issues to a representative sample of franchise and independent auto dealers, the Cox Automotive Dealer Sentiment Index measures dealer perceptions of current retail auto sales and sales expectations for the next three months as "strong," "average" or "weak." The survey also asks dealers to rate new-car sales and used-car sales separately along with a variety of key drivers including consumer traffic. Responses are used to calculate an index where any number over 50 indicates that more dealers view conditions as strong rather than weak.
To read the press release, click here.
If you are interested in speaking with Cox Automotive Chief Economist Jonathan Smoke or need additional study details, contact Mark Schirmer, senior manager, public relations, Cox Automotive, at mark.schirmer@coxautoinc.com or 734 883 6346.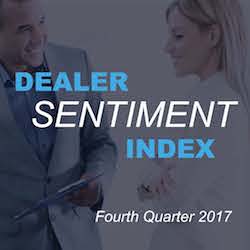 Q4 2017 Cox Automotive Dealer Sentiment Index
Download
Tags