Press Releases
Cox Automotive March Forecast: Slow March Auto Sales to Cap Weakest Q1 in a Decade
Monday March 28, 2022
Article Highlights
March new-vehicle sales volume is forecast to fall more than 24% from one year ago and finish near 1.22 million units.
Annual new-vehicle sales pace in March is expected to finish near 13.1 million, down from last month's 14.1 million pace and down from last year's strong 17.6 million level.
First-quarter sales volume is forecast to be down more than 16% year over year, the lowest Q1 volume in the past decade.
UPDATED, April 1, 2022 – With a trifecta of issues impacting the new-vehicle market in the first quarter – low inventory, low incentives, high prices – sales have mostly been stuck in low gear. Our Industry Insights team was expecting lower year-over-year sales and spoke to that point during the Q1 2022 U.S. Auto Sales Forecast and Industry Insights webcast earlier this week, and early data suggest that is exactly what's happened. The team will have a full report early next week, but it is very likely Q1 will deliver the lowest new-vehicle sales volume in a decade.
As Cox Automotive Senior Economist Charlie Chesbrough has noted, "Auto sales will basically be stuck at the current level until more supply arrives." Cox Automotive has lowered its full-year new-vehicle sales forecast from 16.0 million to 15.3 million, as new-vehicle inventory levels have yet to show signs of recovery and, with recent disruptions from Russia's invasion of Ukraine and a significant earthquake in Japan, it will likely take longer than initially forecast to get back on track.
As Q1 comes to a close, members of our Industry Insights team reflect on Q1 and consider what's ahead for the new-vehicle market.
Jonathan Smoke, Chief Economist
The first quarter of 2022 has been challenging for the economy and the auto market. In January we had omicron driving record cases and in February, Russia invaded Ukraine, disrupting further an already fragile global supply chain with a surge in oil, gas, grain, and commodity prices. Consumer sentiment reflects quite a deterioration so far this year – consumers do not feel good about the present or the future.
Consumers are in a tough situation: Average hourly earnings growth remains above 5%, but real wage growth is negative, with inflation outpacing wage growth. If there is one bright spot, it's employment. New jobless claims are now not only at a low for the pandemic, but at 50-year-lows, despite growth in population and jobs. The strongest part of the U.S. economy right now is demand, and we think that's a good sign for the auto industry.
In our most recent Dealer Sentiment Index, we found that dealers do feel good about the quarter ahead. I think this optimism is rightfully placed, as we expect the overall auto industry in the second quarter to be strong, despite the slowing economy and declining consumer sentiment.
Charlie Chesbrough, Senior Economist
The auto industry today is pretty much in the same place it was last month, and the month before that, and, honestly, the same place it's been since last August: Stuck in low gear, as limited product availability continues to hold back the market. Monthly new-vehicle sales in Q1 have been averaging just over 1 million units and will finish down significantly from Q1 2021.
The industry is ending the quarter with days' supply down more than 50% from year-ago levels, and far below historical norms. Returning to more normal inventory levels would require a significant increase in supply or large decrease in demand – and neither seems likely anytime over the near term.
Michelle Krebs, Executive Analyst
Toyota squeaked by General Motors to become the top-selling automaker again in the first quarter. Though it was by only a couple thousand units, Toyota's success in the quarter is notable and a testament to leadership in efficiency. Long known for manufacturing efficiency, Toyota has demonstrated it is extremely efficient in distribution as well. It has had among the lowest level of inventories in the industry for the past year yet managed to be the top-selling automaker in 2021 and now through Q1 2022. Toyota has consistently put the right product, in the right location, at the right time throughout the chip shortage.
Rebecca Rydzewski, Research Manager
Higher gas prices in March led to a spike in shopping for electric vehicles and hybrids. Based on initial reports, that shopping in many cases converted into sales. Toyota sales of electrified vehicles, while down from a year ago on low inventories, represented a higher percentage of Toyota's overall sales than in the year-ago quarter. One-in-four Toyota vehicles are now electrified in some way to boost fuel economy. Hyundai and Kia combined sold nearly 15,000 of their new EVs, the Hyundai Ioniq models and the Kia EV6, a year-over-year gain of 241%. Honda had its best-ever month for electrified vehicles and even GMC got into the act with nearly 100 Hummer EVs sold in the quarter.
Our analysis of data on Kelley Blue Book and Autotrader showed shopping for EVs rose 69% as gas prices peaked in March; shopping for hybrids increased by 32%. Shoppers even showed more interest in small, more-efficient cars in Q1. Our team is forecasting growth in electrified vehicles in the year ahead, and we certainly saw that in Q1.
Brian Finkelmeyer, Senior Director, New-Vehicle Sales Strategies
With sales volumes down in the first quarter due to continued inventory shortages, we are seeing dealers increasingly move to pre-selling both new and used vehicles. Just last week, we spoke to a dealer in South Florida who had a newly acquired 2018 SUV on a lift for inspection and three different sales consultants brought customers into the shop to see the vehicle. The vehicle sold before it came off the lift. This anecdote highlights the extent to which demand for good vehicles continues to well outpace supply. It's going to take time for dealers to build back inventories, even as microchip availability improves. My forecast: The year ahead will continue to be a seller's market.
---
ATLANTA, March 28, 2022 – March U.S. auto sales, when reported on Friday, will show a notable drop from last March as the market remains significantly constrained by lack of supply. Despite market conditions that would support healthy demand, the seasonally adjusted annual rate (SAAR) of sales this month is forecast by Cox Automotive to finish near 13.1 million, down from February's 14.1 pace and significantly down from last March's 17.6 million level.
Sales volume is forecast to decrease 24% from last March, falling to 1.22 million units. March sales volume will result in Q1 2022 sales being down substantially from last year. Cox Automotive estimates quarterly sales will decline more than 16% from Q1 2021 when 3.9 million units were sold; Q1 2022 is forecast to end with 3.3 million sales and mark the second-worst quarter for new-vehicle sales in a decade, behind only Q2 2020, the height of the global COVID-19 pandemic.
The spring selling season traditionally ramps up in March. This year, the month has 27 selling days, one more than last year and three more than last month. The extra days are a key reason March sales volume will show a more than 15% gain over February. Sales volume has been averaging just over 1.06 million each month since last August.
"Make no mistake, this market is stuck in low gear," said Cox Automotive Senior Economist Charlie Chesbrough. "March sales volume will tick up from February, but this is not due to a substantial change in the market. Low unemployment, relatively low interest rates—the conditions are right for higher sales. With three additional sales days, volume in March will rise month over month. However, seasonal adjustments reveal the true story: Sales remain weak and will basically be stuck at the current level until more supply arrives."
Cox Automotive Full-Year Sales Forecast Adjusted to Reflect Market Instability
The ongoing chip shortage showing little improvement, coupled with the recent news from Ukraine and ongoing inflation issues, has led Cox Automotive to reduce its full-year new-vehicle sales forecast for the U.S. Cox Automotive now expects light-vehicle sales to reach 15.3 million this year, down 700,000 units from the original forecast released in January. To reach this level by year's end, the supply situation must begin to show significant gains next quarter and consistent improvement throughout the year, otherwise, another forecast adjustment may be necessary.
March 2022 New-Vehicle Sales Forecast Highlights
New-vehicle sales are expected to fall 24% from last March but should rise more than 15% from February 2022 with three more selling days.
The SAAR in March 2022 is estimated to be 13.1 million, below last year's 17.6 million level, and down from February's 14.1 million pace.
All segments will see double-digit month-over-month sales increases with mid-size cars seeing the largest increase at 19.8%.
March 2022 Sales Forecast

Q1 2022 New-Vehicle Sales Forecast Highlights
New-vehicle sales volumes are forecast to drop 16% from Q1 2021; Q1 2022 is forecast to show the lowest Q1 sales volume in a decade.
After finishing atop the sales chart in 2021, Toyota Motor Company—combined Toyota and Lexus sales—is forecast to be No. 1 by volume in Q1 2022.
Hyundai and Tesla continue to gain share; General Motors forecast to drop notably in Q1.
Q1 2022 Sales Forecast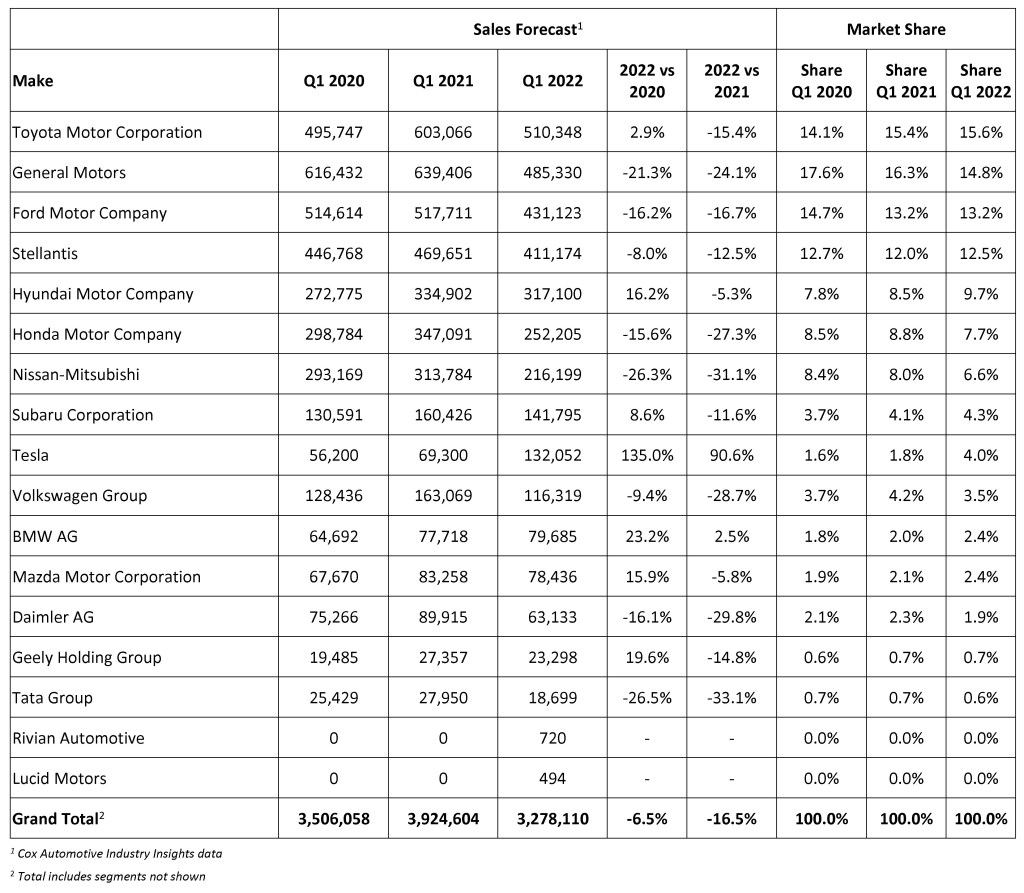 All percentages are based on raw volume, not daily selling rate.
About Cox Automotive
Cox Automotive Inc. makes buying, selling, owning and using vehicles easier for everyone. The global company's more than 27,000 team members and family of brands, including Autotrader®, Dealer.com®, Dealertrack®, Kelley Blue Book®, Manheim®, NextGear Capital®, VinSolutions®, vAuto® and Xtime®,are passionate about helping millions of car shoppers, 40,000 auto dealer clients across five continents and many others throughout the automotive industry thrive for generations to come. Cox Automotive is a subsidiary of Cox Enterprises Inc., a privately-owned, Atlanta-based company with annual revenues of nearly $20 billion. www.coxautoinc.com
Media Contacts:
Mark Schirmer
734 883 6346
mark.schirmer@coxautoinc.com
Dara Hailes
470 658 0656
dara.hailes@coxautoinc.com
Tags