Press Releases
Cox Automotive Rates & Incentives Announces API Enhancements for CPO and Used-Vehicle Data
Friday February 14, 2020
Article Highlights
Data will standardize financing options for certified pre-owned (CPO) market.
Used-vehicles sales forecast to be near 40 million in 2020.
CPO listings, on average, sell faster than non-CPO listings.
ATLANTA, Feb. 14, 2020 – Cox Automotive Rates & Incentives (CAR&I) released a new data set for certified pre-owned (CPO) APR and used-vehicle retail financing. The API enhancements optimize the selling experience designed to be the industry's most complete, accurate and timely incentive data through easy integration to power consistent pricing and payments. Dealers are now able to standardize financing options for CPO and used vehicles while capitalizing on a growing segment of customers in the used-car space. This data is available via ongoing enhancements through the Rebate Incentive Service API.
"CPO sales were 2.8 million units in 2019, which is an all-time high, up 4% over 2018, but there is still considerable opportunity for dealers in relation to the size of the market," said Brad Korner, general manager at Cox Automotive Rates & Incentives.
Cox Automotive predicts that the used-car market will remain near 40 million in calendar year 2020, as supported by similar volumes trending over the past 13 months. This is, in part, due to new-car transaction prices approaching $38,000 in recent months, according to Kelley Blue Book, which is expanding the affordability gap for some buyers and resulting in longer-term finance periods to keep payments within reach.
A flood of fresh off-lease and fleet cars less than 4 years old are expected to come back into the market in 2020, offering the same or similar features to new cars often priced 30-to-50% less than the new models. Used-car customers are also looking for 5-to-8-year-old vehicle trade-ins, putting pressure on dealers to offer attractive financing options.
"With the importance of digital retailing, dealers need to connect with consumers on their terms and take the digital retailing process as far as they can," said Korner. "This new data will allow online shoppers to calculate price and payment for a CPO or qualifying used vehicle from their home. Rates were previously unavailable, leaving consumers unable to get that far in the process until they reached out to the dealership."
According to Autotrader, based on a rolling 12-month average,1 approximately 255,000 of the daily listings  on Autotrader.com are CPO vehicles. Nearly 20 OEMs currently partner with Autotrader for their CPO listings.
Additionally, according to an analysis of Autotrader listings, CPO listings are more likely to sell2 faster than non-CPO listings:
CPO listings are 9% more likely to sell in 7 days than non-CPO listings;
CPO listings are 19% more likely to sell in 14 days than non-CPO listings; and
CPO listings are 21% more likely to sell in 30 days than non-CPO listings.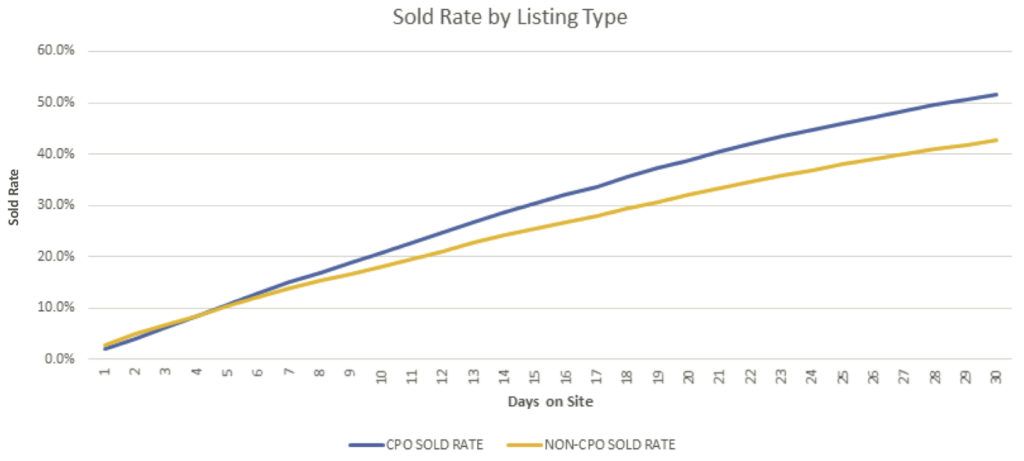 "With the steady increase of used-car sales, the expanded ability to standardize financing options for used-car sales is critical to our dealer clients," said Sam Vukas, chief operating officer at Dealer eProcess, an automotive website and digital marketing company. "This type of data can help our clients connect with consumers and enhance the digital retailing experience, closing more sales."
CAR&I data contains more than 10 million data points and its speed of publishing is built to be best in class, with continued advancements being made for expanding data and reducing time to market.
The new data enhancements include:
CPO Vehicle Coverage
Used Vehicle Coverage
Captive and Independent Bank Programs
Standard Rates
Special Rates
Retail APR
Programs can go back to 2010, primarily to cover Used Cars
Maximum Odometer Mileage Rules
Maximum Term Rules
Vehicle Condition Parameters
LTV Rules, similar to lending rules notes available for new vehicles
For more information on these data enhancements, visit: https://www.coxautoinc.com/rates-incentives/, or schedule a time to meet with the Cox Automotive Rebates & Incentives team at NADA by emailing: ratesandincentives@coxautoinc.com.
About Cox Automotive Rates & Incentives
The Cox Automotive Rates & Incentives (CAR&I) team has developed a methodology for measuring the accuracy of data used to calculate pricing and payment information presented through dealer service provider tools (e.g., dealer websites, inventory management, digital retailing & advertising, desking, equity, etc.). Approximately 17,500 individual dealerships – rooftops, in automotive parlance – in the U.S. rely on CAR&I incentive data for powering 5 different software applications through Cox Automotive native software/sites and our many industry partners. In all, an estimated 90,000 applications are relying on CAR&I data in a given month, providing valuable information to 40 million shoppers.
About Cox Automotive
Cox Automotive Inc. makes buying, selling, owning and using cars easier for everyone. The global company's 34,000-plus team members and family of brands, including Autotrader®, Clutch Technologies, Dealer.com®, Dealertrack®, Kelley Blue Book®, Manheim®, NextGear Capital®, VinSolutions®, vAuto® and Xtime®, are passionate about helping millions of car shoppers, 40,000 auto dealer clients across five continents and many others throughout the automotive industry thrive for generations to come. Cox Automotive is a subsidiary of Cox Enterprises Inc., a privately-owned, Atlanta-based company with revenues exceeding $20 billion. www.coxautoinc.com/
Contact:
Mark Schirmer
Cox Automotive Public Relations
Email: Mark.Schirmer@coxautoinc.com
Phone: 734-883-6346
1Daily listing average based on rolling 12 months from Feb. 1, 2019 through Jan. 31, 2020.
2Delisted date was used as a proxy for sold date.