From Idea to an Initiative: The Brains Behind Drive the Vote
How a passion for civic engagement inspired Lead Product Manager Michael Rock to create a company-wide campaign.
Cox Enterprises has a long history of supporting civic engagement, rooted in the actions of our company's founder, Governor James M. Cox. He served as a three-term governor of Ohio and ran for president of the United States in 1920, 100 years ago. When he returned to his business, Gov. Cox infused a sense of purpose in every decision he made.
Today, our company remains just as committed to empowering people to build a better future for the next generation, including our support of more citizen participation in the election process.
Enter Drive the Vote, a consumer-facing campaign using our Autotrader and Kelley Blue Book websites and social media channels. The campaign aims to educate consumers about civic engagement, drive voter registration, encourage early and absentee voting, and increase voter turnout on November 3.
Michael Rock, Lead Product Manager, created the concept for Drive the Vote. His passion for civic engagement combined with inspiration from change and inclusion conversations he had with company leaders, motivated him to create a campaign that would use our Cox Automotive and Cox Enterprises resources to encourage those around us – in our company, our communities, and our industry – to make their voices heard.
We recently sat down (virtually) with Michael to learn how he took his idea and transformed it into a company-wide initiative.
Tell us a little about yourself and your role at Cox Automotive.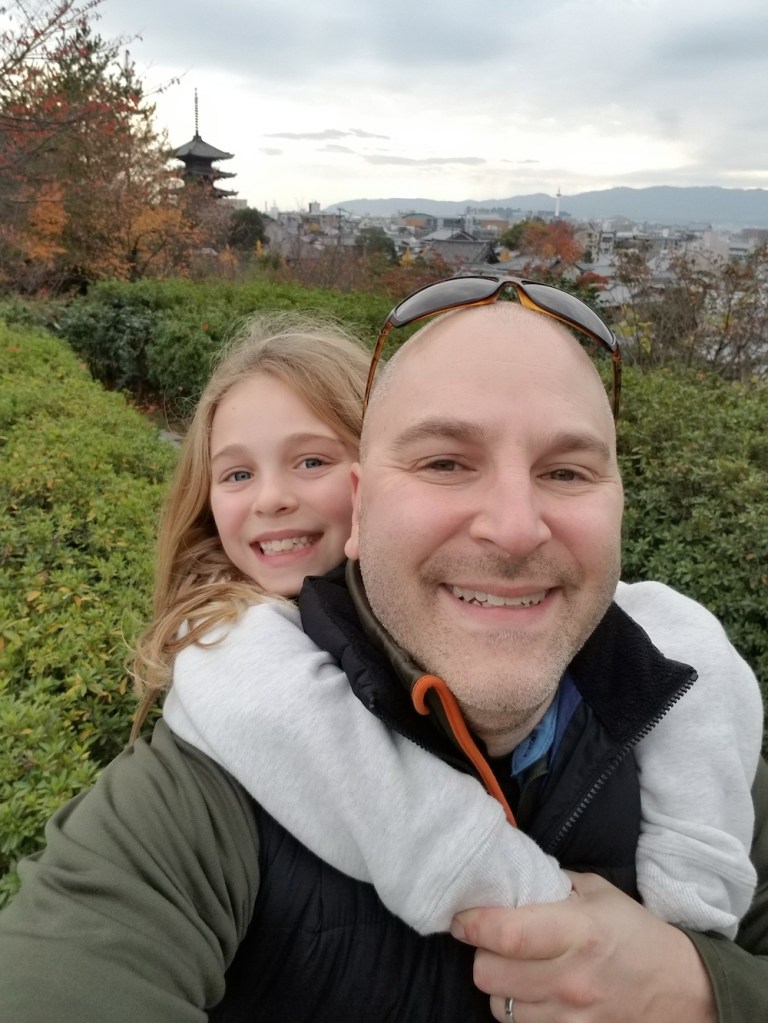 I am in my 12th year with Cox Automotive. I have been fortunate to work across major brands like Manheim and Autotrader, with some time in between on an internally incubated start-up. My career with Cox Automotive has been entirely in the product space, focused on combining a passion for "what's next" with the realities of "what's needed."
Tell us about Drive the Vote. How did you come up with the idea?
I was raised in a family that placed a high value on, and sense of responsibility around, civic engagement. My parents were very active in the campaigns of some former Atlanta mayors. My mom was a co-founder of the PATH Foundation. My father was an early graduate of Leadership Atlanta. When I would ask why they put so much time into these areas, they helped me understand that change happens with hard work and, most importantly, engagement. You cannot wish change to happen, you have to make it happen.
One of the hardest points for me to understand from these early interactions, was the dismay over a lack of voter turnout in local elections. So many people have sacrificed, and continue to do so every day, so that we can cast a vote that expresses our free will and determines the direction of our country. Yet, the average voter turnout in presidential elections since 1908 is 57%. Why was there such low participation in something we, as a country, promoted as so vital to our democracy's wellbeing?
Those experiences stuck with me, and I still to this day do not have an answer for why voter turnout is so low. But I knew that I worked with two powerful consumer brands, and that the platform to help make a change was already in place. All that was needed were the resources to make it happen.
How did Drive the Vote come to fruition?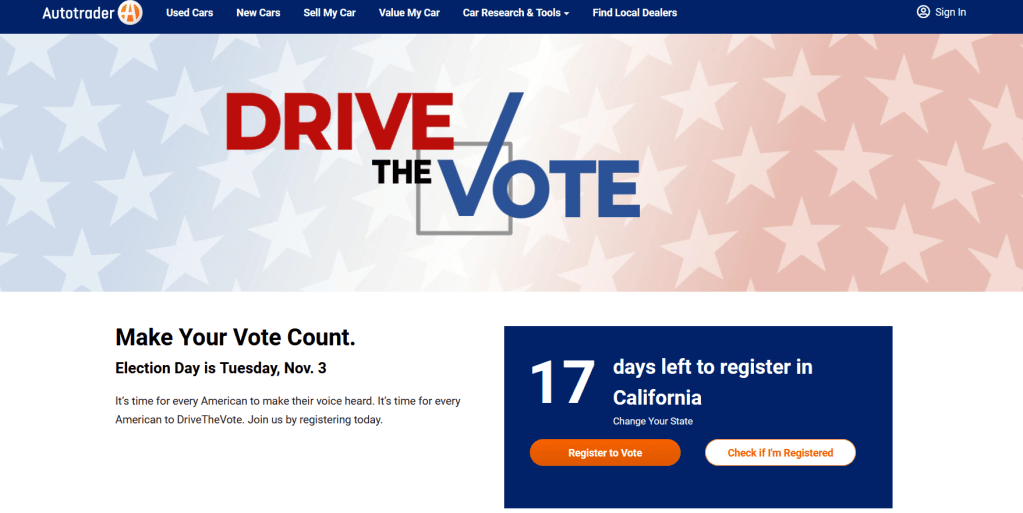 Listening to company leader-led town halls over the summer on driving equality, I heard a lot of voices for change. I thought, if I could make one change that really had an impact, it would be to increase voter turnout and have more voices heard.
I mentioned in one of the discussions the idea of using our consumer brands, Autotrader and Kelley Blue Book, to educate, promote, and encourage voting in this election year. Leadership immediately provided the support and encouragement to make it happen, and a great team of like-minded folks pitched in to help execute.
We all met several times a week initially, solidifying how we could use existing ad slots on Autotrader's and Kelley Blue Book's websites that were unsold to promote voter registration and engagement. The team quickly produced designs, and we connected with an existing Cox Enterprises partner, Rock the Vote, that had the content necessary to educate and inform consumers.
How does this initiative align with Cox Enterprises' values?
Drive the Vote is primarily about civic engagement. As a U.S. representative, governor and Democratic nominee for president of the United States, James Cox clearly understood what it meant to be engaged in the community. Being a corporate citizen doesn't enable Autotrader or Kelley Blue Book to cast a vote, but it does enable us to support our communities and employees so that they can.
Drive the Vote is also about empowerment and inclusion. This campaign was completely employee-driven, with team members from numerous disciplines and backgrounds located all over the country pitching in. Our leadership team empowered us to make decisions and build on ideas, and then supported us in making the campaign real.
And, on this 100th anniversary of Gov. Cox running for president, Drive the Vote builds on a long tradition of civic duty, helping to ensure that voices are heard, and people are empowered to "build a better future for the next generation."
What's next for Drive the Vote?
With the election fast approaching, Drive the Vote continues to evolve for consumers, and will adjust from voter registration messaging to early voting and then election day messaging to encourage voters to get to the polls.
Employees have been given paid time off on Election Day, and leadership has designated November 3 to be a "meeting-free day," giving everyone the time to make their voices heard at the polls.
In addition, we've been talking with Manheim and across Cox Enterprises for ways to extend the message and gain further support for Drive the Vote.
And It doesn't stop after Election Day! Drive the Vote will evolve into Drive Education, building on the same idea that we continue to use our consumer brands to make a difference in our communities. Drive Education will focus on education support and workforce preparation for those communities that are underserved, specifically in STEM-related topics.
Lastly, get educated, get registered, and get to the polls on or before November 3!
To see Drive the Vote, go to www.Autotrader.com or www.KBB.com. For more details on voting, please visit Cox Enterprises' page on the Rock the Vote website.