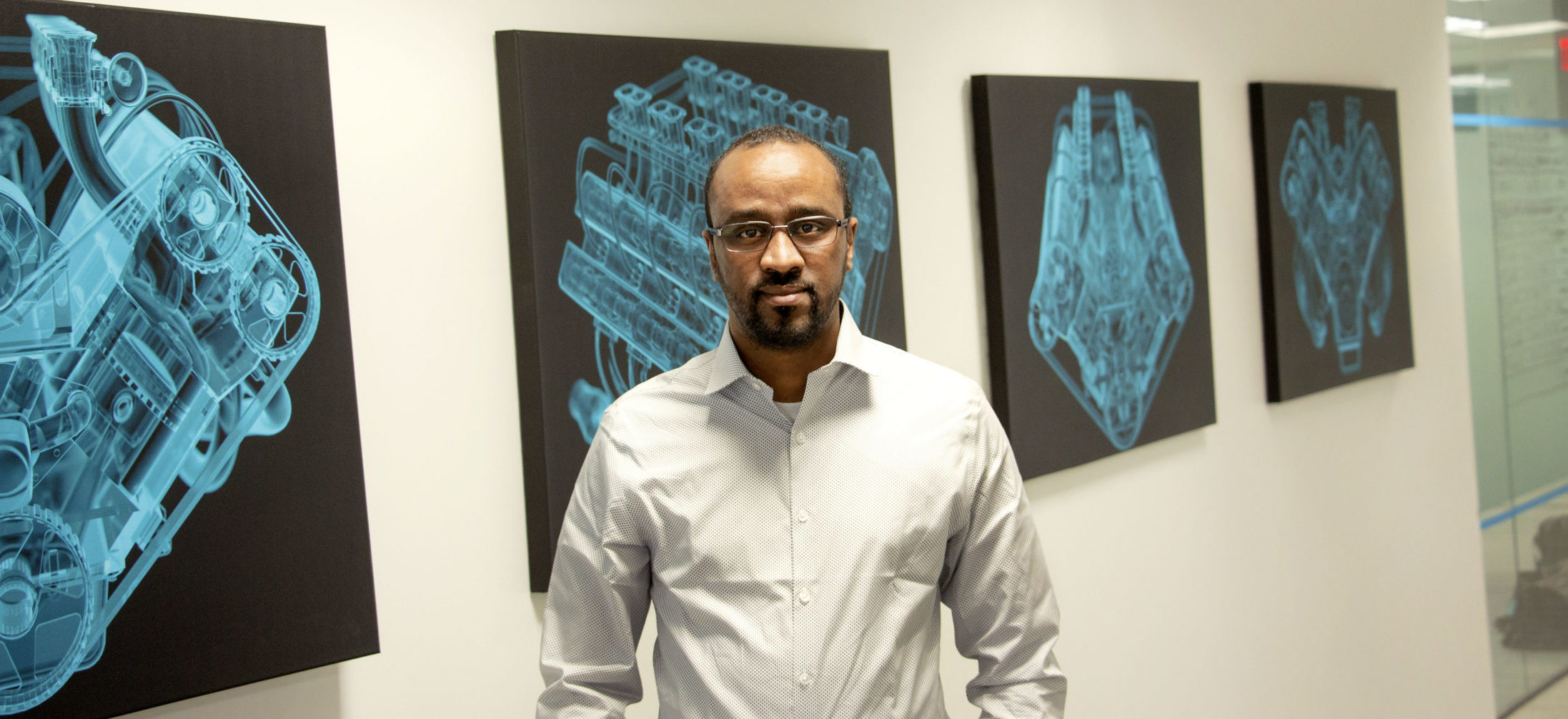 Using Artificial Intelligence for a More Predictable Road to the Sale
Mo Ali is building systems that learn from top salespeople and guide others to success
VinSolutions, a Cox Automotive brand, is pushing the envelope with artificial intelligence (AI) in part because of the innovative spirit of Mo Ali, a software engineer at the company.  Ali set the AI community – and the automotive industry – abuzz with his peer-reviewed paper at the Association for the Advancement of Artificial Intelligence (AAAI) conference.
VinSolutions specializes in Customer Relationship Management solutions, or CRM, that helps cars dealers stay connected to customers, streamline processes, and improve profitability. The CRM system creates a 360° view of the customer, capturing their interactions with the dealership, and surfaces the information needed to have better conversations—and more sales. According to Ali, traditional CRM focuses on known customers.
"In traditional CRM, you have to know who your customers are. They have to come to you in some way or another. At the same time, you have to know the products that you're selling in order to connect them to the right option."
But Ali's work at VinSolutions entails predictive CRM, a newly emerging technology that uses AI to go beyond known customers and known products.  Predictive CRM taps external and internal data for insights into greater opportunities. It complements traditional CRM.
"Predictive CRM helps organizations figure out, 'What customers am I missing?  What are the customers that we haven't even considered?  What are the best ways to interact with that audience?'" explains Ali.
Current predictive research tends to focus on either products or consumers. Product-centric analytics predict product cross-sell, up-sell, and deep-sell opportunities. Consumer-centric analytics segments the population for targeted marketing campaigns based on personal attributes or values.
Ali works full-time at VinSolutions while also pursuing a Ph.D. at the University of Missouri – Kansas City.  His research interest is AI, especially predictive analytics and machine learning. Colleagues and friends marvel at how Ali deftly manages his job responsibilities with his doctoral program demands.
"In all honesty, it is not an easy thing to do. However, I try to find synergy between academic and career goals and milestones. Working in an industry setting taught me to be results- and priorities-driven. And doing academic research taught me to apply an interdisciplinary approach to solving complex problems. This helps me do more in less time."
So Ali decided to integrate his doctoral research into his VinSolutions job.
"I thought, why not explore something that I'm already passionate about?  What if I could use this opportunity to contribute to my work goals while achieving my academic goals at the same time?"
Ali noticed a gap in CRM predictive research – salesmanship. Instead of products and customers, he turned his attention to study the patterns of successful salespeople.  Understanding those success factors could help steer the average salesperson to take more effective actions and to improve customer relationships.  Ali wanted to know if machine learning could capture this success pathway to yield meaningful recommendations to salespeople along the sales process for more consistent – and more profitable – results.
VinSolutions leadership liked Ali's proposal and funded the project with a grant to the University of Missouri – Kansas City. From start to finish, the research took 18 months to complete. Ali's findings showed that AI algorithms could learn from successful salespeople's practices and patterns in a CRM system.  His predictive model translates those behaviors and activities to guide salespeople toward the right steps through an easy-to-understand interface. This pioneering approach also helps salespeople know which customers to contact and when to contact them for the best sales outcome. What's more, Ali's expanded CRM capabilities don't require additional user training.
Ali's work was further validated by Association for the Advancement of Artificial Intelligence (AAAI), one of the top AI conferences in the world.  This prestigious organization only accepts 20%-30% of papers submitted for presentation. His paper, CRM Sales Prediction Using Continuous Time-Evolving Classification, was featured to promote research and scientific exchange amongst other AI researchers, practitioners, scientists, and engineers in affiliated disciplines.
Ali's groundbreaking research is not only demystifying car sales, but its potential for application to other industries has the larger business community taking notice, too. But for now, his new machine-learning approach for sales prediction – now named Deal Strength – is part of a larger automotive intelligence initiative at Cox Automotive to leverage data science and AI.  Ali says there are multiple people across the retail solutions and data science teams that are actively collaborating on this endeavor.
In business, new ideas often come from the top of an organization as a directive for the bottom to solve.  But VinSolutions fosters a work environment where idea conceptualization is welcomed from employees and supported by the leadership. Ali's research showed how machine learning could be used to predict a particular lead's chances of being sold at any stage during the sales lifecycle. For Ali, VinSolutions, all the Cox Automotive brands—and their clients—the future is bright and the sky's the limit with AI.
"The most rewarding aspect of this journey was the conversations it sparked," says Ali.
"It allowed us to find our voice and motivation by simply looking at the wide range of business opportunities we have in this fertile area of AI-enabled solutions."