It's a bird. It's a plane. It's Superman!
Derek Rich is a content developer for the Cox Automotive product design and usability group with an amazing superhero side gig.
By day, Derek Rich is a content developer for the Cox Automotive product design and usability group. But then he quietly slips out the door, makes a superhero transformation and emerges as Superman to visit sick kids in local children's hospitals with the Cosplay Volunteers of Atlanta organization.
This superhero side gig keeps him busy, with visits to Children's Healthcare of Atlanta campuses, including Scottish Rite and Egleston, and an occasional road trip to Palmetto Children's Hospital in South Carolina.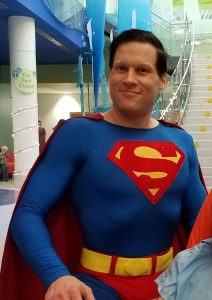 "I'm just a geek," Derek laughed. "I've been into comics my whole life. Superman is my favorite character to dress as, but I do have Captain America and Iron Fist costumes, too."
But it's the kids' reactions that keep the Man of Steel coming back.
"Oh my gosh, it's great," he said. "When they see me, I am that character to them – the real deal. They're going through so much but these kids have such an amazing attitude. It's humbling."
He recalled one girl, about six or seven years old, he visited. "I sat down next to her as Superman and started talking. We made small talk about her favorite superhero – Captain America."
"But then she looked up at me, and with 100 percent sincerity, said, 'I'm sorry Krypton blew up.'" He paused, "This little girl fighting for her life felt sorry for me."
One of his earliest visits happened during a festival at the hospital with balloons and fun activities for the kids. Derek remembers, "There was one little girl who had a butterfly painted on her face. We inducted her into the Justice League as Butterfly Girl. She was so excited and bounced around telling everyone that she was a superhero!"
Derek gravitates toward Superman and Captain America because they tend to be the adults in the movie. "They are an example of the best we can be with a strong moral compass. They do the right thing, not because of a past tragedy or trauma. It's because they can."
"There is a right and a wrong in the universe, and that distinction is not hard to make." Superman
It's probably not a surprise that the original 1978 Superman movie starring the late Christopher Reeve and Margot Kidder, is his favorite superhero movie. "They just got it right," he explained.