Zero Waste Warriors at Cox Automotive
Learning how to recycle – the right way – for zero waste to landfills
Cox Automotive, in partnership with Cox Enterprises' national sustainability program, Cox Conserves, has a goal to send zero waste to landfill by 2024. While team members have made significant strides diverting waste in recent years, there are still many opportunities to reduce trash in our workplaces.
That's why Cox Automotive launched its Zero Waste Warrior campaign. Because everyone could use a little more education and encouragement toward more sustainable decisions and behaviors at work.
"We want to inspire and empower team members to help us achieve this goal," explains Stephanie Valdez Streaty, Senior Director, Corporate Responsibility at Cox Automotive. "We need everyone's participation to properly reduce, reuse, and recycle."
To drive participation, the new campaign urges team members to be Zero Waste Warriors—fighters who battle back against waste that harms the planet and keeps the company from accomplishing its goal.
Reminders to reduce and reuse items, like office paper, seem straightforward, but recycling can get pretty complicated. After all, what's recyclable versus compostable–and what's the difference? Which item goes in which bin? Not to mention that what is or isn't recyclable can vary based on market factors and business location.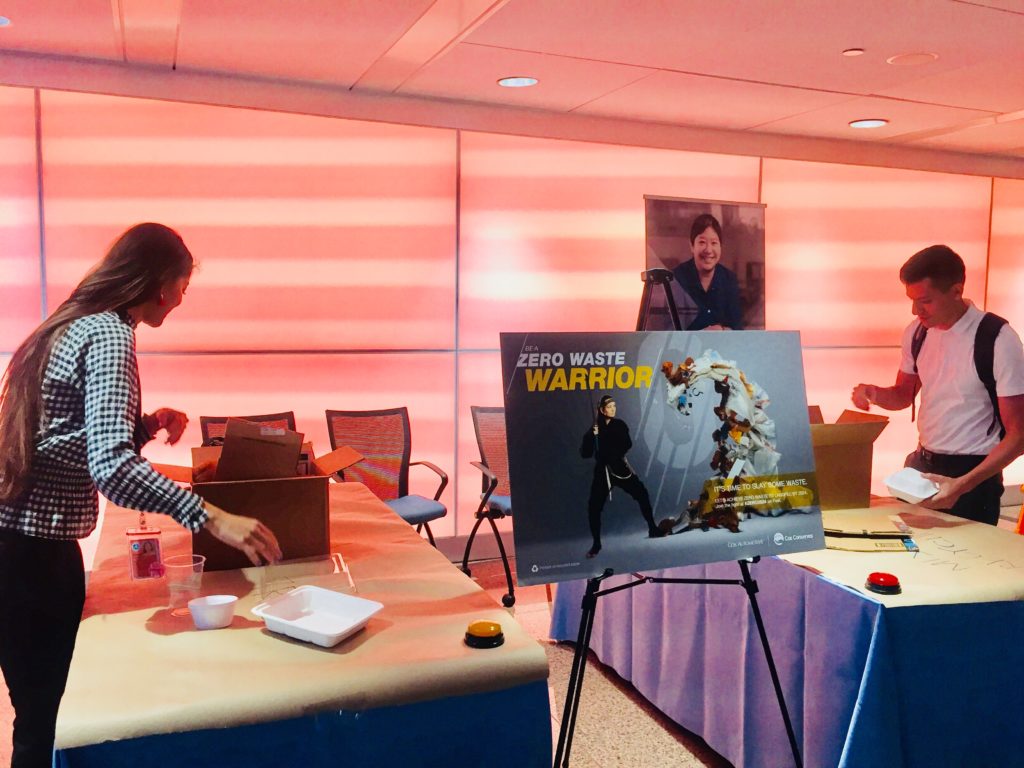 Most of us want everything to be recyclable, so we err on the side of putting all paper-based or plastic items in bins. But not everything that looks recyclable truly is. And when we make a mistake, we can contaminate a whole batch of recycling, defeating our best intentions as the entire tainted bin can end up redirected to the landfill instead.
For example, disposable coffee cups. Surely, they're recyclable, right? Not always. If the single use paper coffee cup is lined with plastic to safely hold hot liquid, it can be difficult and expensive to recycle. So unless the municipality has special facilities, that multi-layer cup is classified as trash.
Greasy pizza boxes are questionable too, as it's tough to separate the oil from the cardboard. And not everyone has gotten the memo that recyclable items need to be clean before tossing in the bins. Often just rinsing or wiping food residue out a container can make all the difference.
Cox Automotive's Cox Conserves team is sponsoring a series of lunch 'n learn events at its locations nationwide. There team members will enjoy lunch and tips and tricks to get better at reducing, reusing, and recycling common materials at work.
"We've gotten feedback that team members want more than just bins and signage," says Valdez Streaty. "So we get in the weeds to talk about whether or not the napkin should go in the trash or if a certain container is recyclable."
These lunch 'n learns are spurring dialogue and collaboration in a fun-filled setting, complete with quizzes, buzzers, and prizes. On-site Green Teams comprised of employee volunteers serve as field liaisons for this and other sustainability goals. The company's internal sustainability site, Cox Conserves & You, helps team members stay on track and measure individual as well as system-wide progress.
Cox Automotive is driving positive environmental change to ensure that nearly everything in its operations is reduced, reused, composted, or recycled by 2024. The Zero Waste Warrior campaign will help team members ditch bad recycling habits and look at waste in new ways. This also includes transitioning away from single-use items and minimizing the plastic footprint at work. According to Valdez Streaty, these small, individual actions add up to make a big impact.
"Every Cox Automotive team member can make an important contribution toward our Zero Waste to Landfill goal. We can all be Zero Waste Warriors!"