Car shoppers tell us how they feel about shopping & buying online
2017 Digital Retailing Study
Wednesday July 19, 2017
Article Highlights
Give consumers options when it comes to the car shopping/buying process – both digitally and in-person.
When digital options are selected for phases, such as negotiations, look for other personal touches or in-person opportunities that can be used to build relationships with customers.
One-price dealerships are the lowest hanging fruit to overcome many of the consumer concerns related to digital retailing, given that negotiation and test driving are not linked like they are in traditional dealerships.
What is today's preferred car shopping experience? We asked consumers what they want from a digital experience when it comes to car shopping and buying. Here's what they told us.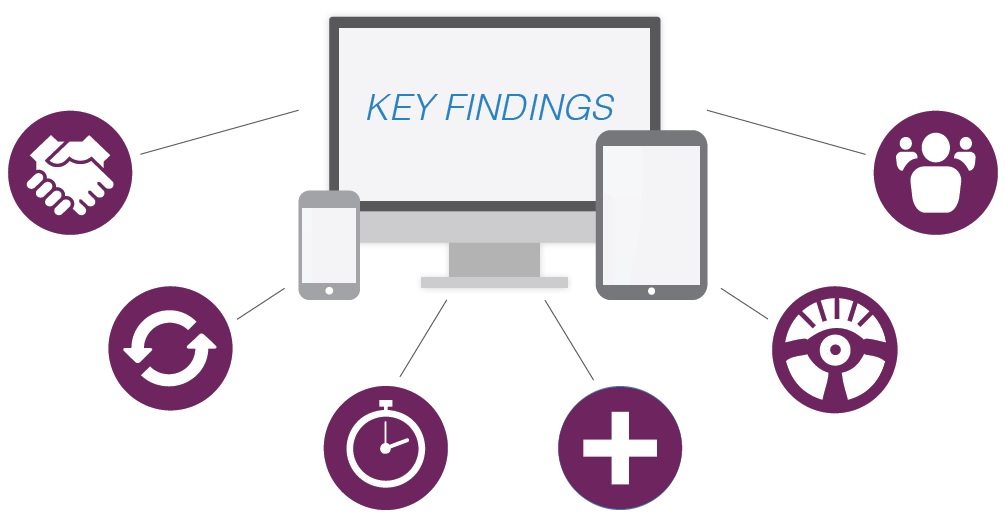 Most consumers want the ability to do a number of automotive shopping/buying activities online, viewing digital retailing as convenient and saving them time.
Some of the top wants focus on the ability to take a 360° tour of the vehicle, reserve a vehicle for a test drive and negotiate online.
In general, consumers seem just as comfortable with the idea of negotiating digitally as they are with in-person negotiations, and a majority of consumers say they would prefer a digital negotiation process over the current in-person process if given both options.
Further, a majority of consumers would have more positive impressions of a dealer if they offered a digital negotiation or financing process, would be more likely to return to a dealer that offered these options and would be more likely to shop for a vehicle further from home if they knew a dealer offered a digital buying process.
Still some barriers exist for some consumers: the most common being security concerns over giving out personal information online, the inability to physically inspect the vehicle, and the inability to see visual cues during the negotiation process. Additionally, consumers are unsure how the test drive and online negotiation process will happen logistically and some are uncomfortable negotiating a vehicle they have yet to test drive.
Additionally, more than 2 in 5 consumers feel it is important to have a personal connection  with their automotive salesperson.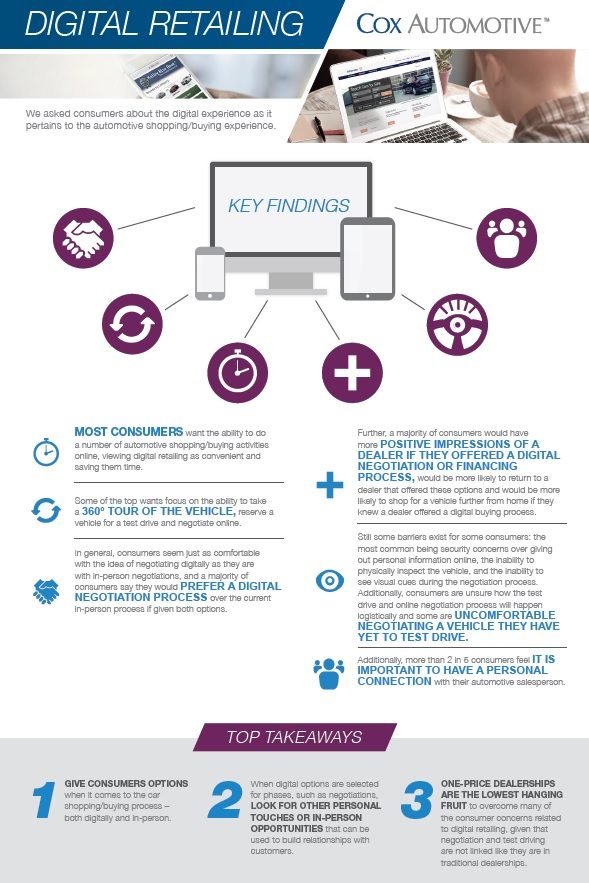 2017 Digital Retailing Study
See the complete study results to learn more about how dealers can best take advantage of digital retailing opportunities.
Download
Tags