Ease price negotiation
Dealer Bridges Online/Offline Shopping Gap with Fair Price Tool
Saturday January 16, 2016
Article Highlights
"Everyone has definitely become a lot more comfortable with our pricing strategy, and how the Kelley Blue Book Price Advisor complements DGDG's PROJECT100 philosophy as a whole. This definitely shows results in happier customers, higher CSI scores, as well as the increased amount of 5-star Yelps. The 'No-Brainer strategy,' together with the Kelley Blue Book Price Advisor, has made positive improvements in our store's sales process. The management likes it, the product specialists like it and the customers definitely love it." – Earl Buenavente, Online Product Specialist
"Our sales volume has increased, CSI is at an all-time high, transactions are going faster and smoother, and our clients' buying experience is positively memorable. We let our customers know that we are on their side; we are non-commission product specialists. We have saved customers time and eliminated the stress of negotiating. This makes a happy car buyer, a 100% satisfied customer! They can now see what other people just like them are paying for their new vehicle, buying with confidence knowing that our dealership and dealer group is all about being fair, making people happy. This program works and is a huge success." – Drew Coronel, General Manager
"It's best to incorporate the Kelley Blue Book Price Advisor early in the conversation during the intro, needs assessment and vehicle discovery conversations. We can then start building a partnership with discussions on transparency, ease of process and value as we transition from the lot to the test-drive to the Service Department and onto the showroom floor. This way the customer understands that it's not another dealership gimmick to sell them a car, but rather a value-add." – Jay Smith, Product Specialist
Case studies from Cox Automotive illustrate how various types of auto dealerships across the country are using tools and technology to transform their businesses. This case study looks at how Del Grande Dealer Group (DGDG) is integrating the Kelley Blue Book Price Advisor into all aspects of its branding and operations. According to DGDG, this integration has helped bridge the gap between online and offline car-shopping activities. This has resulted in dramatically enhanced customer and employee satisfaction, and reduced transaction time while playing a vital role in helping the organization achieve its long-term goals.
In fact, since adopting the Kelley Blue Book Price Advisor and carefully tailoring and executing an implementation strategy, Del Grande Dealer Group's data from Q4 2014 through Q1 2015 show that organic website traffic increased by 48%, phone call leads increased by 42% and F&I products per contract increased by 31%. While these outstanding statistics are the result of DGDG's specific strategy, it is evident that using the Price Advisor to display range-based vehicle prices – designed to provide consumers and dealers with realistic pricing expectations – is working for Northern California's largest family-owned dealer group.
According to DGDG Vice President Jeremy Beaver, "We are a non-print organization today. The majority of our direct marketing is spent digitally." A big part of that digitally focused marketing strategy has been the holistic integration of the Kelley Blue Book Price Advisor into all aspects of the group's brand – from the website and display advertising to the sticker prices on each vehicle for sale.
"No Brainer" Pricing
Visit DGDG.com and you immediately discover that you've reached the home of the "No Brainer Deal." Customers receive a "No Brainer Price" where every car is "Priced Up Front" based on the Kelley Blue Book Price Advisor. The distinctive "No Brainer" smiley face, which ties in seamlessly to their "Don't just be a car buyer, be a happy car buyer" theme, and Kelley Blue Book logos are prominently featured throughout the site. Abundant links drive visitors to videos and content describing that customers can buy with confidence because all DGDG vehicle pricing is based on the Kelley Blue Book Price Advisor valuations which are updated weekly.
Each new vehicle on DGDG's website is linked to a report that can include vehicle options, available warranties, history reports from CARFAX®, customer and industry reviews and ratings, available dealer services and events, and more. The Kelley Blue Book Price Advisor also lists relevant details that affect the vehicle's value. On any Web-enabled device, the report instantly displays specific insights into the vehicle, the deal and the dealership so that shoppers know exactly how and why it earned its price point.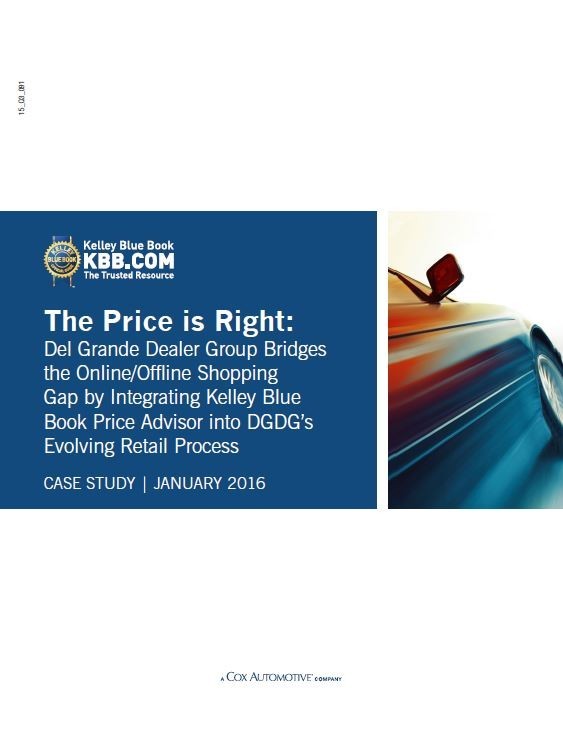 The Price is Right
See the full case study
Download
Tags