Case Study
Easterns Automotive Group Embraces Transparency with Kelley Blue Book® Price Advisor for Greater Competitive Edge
Tuesday December 4, 2018
Article Highlights
Since including Price Advisor on its website, Easterns has seen an uptick in key performance indicators, including online metrics, sales metrics, and operational metrics.
Easterns' velocity push is supported by Kelley Blue Book Price Advisor, which helps foster faster inventory turns. Their sales volume per units grew 30% last year and it's up this year since switching to a volume-based model.
Marketing Director Joel Bassam explains, "I want [car shoppers] to be able to do a small amount of research without leaving our vehicle detail page and have a well-respected third party confirm that our price is a good deal. We get all that with the Kelley Blue Book Price Advisor."
Joel Bassam, Marketing Director of Easterns Automotive Group, understands that pricing transparency is critical for today's vehicle buyers — as well as dealerships. "Transparency is important to us as a company," he says. "We don't want to spring surprises on our customers. I want a customer to always feel confident in our price." "I want them to be able to do a small amount of research without leaving our vehicle detail page and have a well-respected third party confirm that our price is a good deal," Bassam explains. "We get all that with the Kelley Blue Book Price Advisor."
Kelley Blue Book® is one of the most trusted brands in the automotive industry — the gold standard for independent valuations. Kelley Blue Book Price Advisor is an online tool that incorporates factors such as actual vehicle transactions, regional variations, and supply and demand to clearly show the Kelley Blue Book® Fair Market Range for a vehicle. Bassam added the Kelley Blue Book Price Advisor to Easterns Automotive Group's vehicle listings on its website. It can also be accessed in their showrooms via desktop or tablet.
Like most car dealers, Bassam has embraced the power of the Internet to attract shoppers and drive them to Easterns' seven showrooms located in Washington DC, Maryland, and Virginia. The company's leadership believes that its website is an important representation of their business with a vital role in the sales process. By carrying online pricing transparency into the showroom process and deal closing, Easterns is distinguishing itself from other dealerships. Instead of a game of wits, car buying at Easterns is a smooth transaction with the Price Advisor.
Price Advisor helps Easterns set expectations for consumers online and makes it easy for salespeople to reaffirm in person why the price reflects a good deal. The Price Advisor tool supports online to-showroom consistency that instills trust with customers, reduces the appointment time in-store, and facilitates easier deal closings. With pricing transparency from start to finish, salespeople are sidestepping hassles and pushback from buyers. They are confident in the dealership's pricing strategy and can close a greater number of deals for higher velocity sales.
"No matter if you are the best price in a 1,000-mile radius, a customer could say I want a better deal," Bassam says. "Our sales team can lean on Price Advisor for assurance that our price is both competitive or the best in the market. It's part of our team training to do this." "Kelley Blue Book Price Advisor is an independent provider of pricing information that lends credibility and validation as a third-party."
With Price Advisor, Easterns Automotive Group customers can easily see where prices fall in relation to the Kelley Blue Book Fair Market Range with comparable vehicles and details that explain the range and pricing. The tool enables car buyers to find everything they need on the dealership website and feel comfortable exchanging personal information online and setting up in-store appointments. While customer satisfaction is the end goal, it's a win-win for everyone. Customers get fully transparent prices and the sales team isn't mired in negotiations.
"Our focus is always on the customer," says Bassam. "Everything we do is for them. But having salespeople that are educated and well-informed makes it easier to be on the same page as our customers," he continues. "And making our customers happy makes us happy."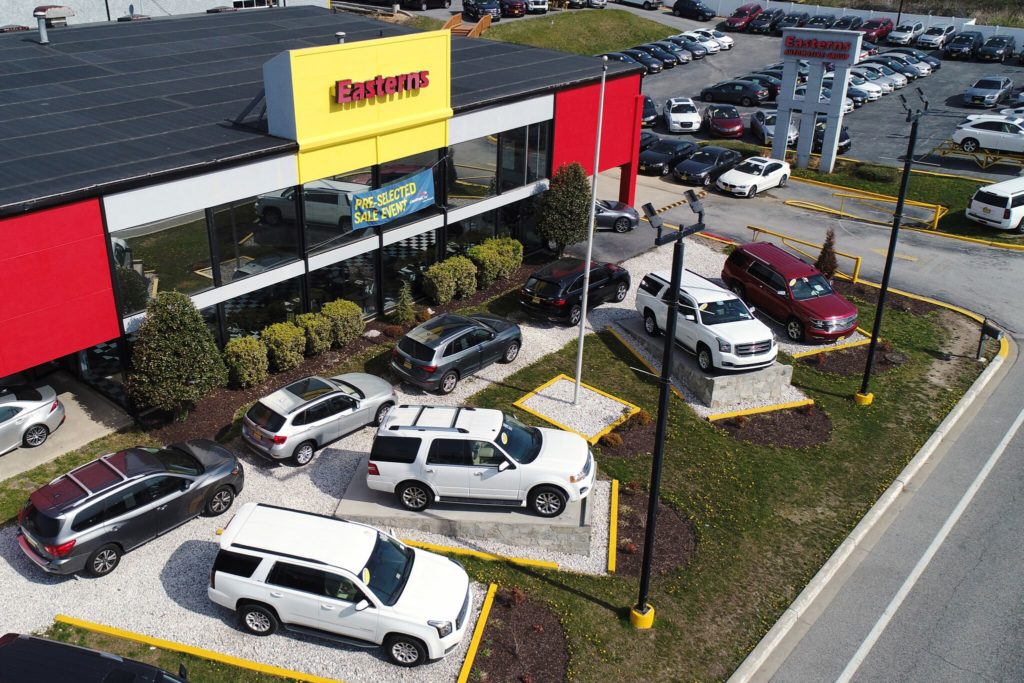 As a large-scale, independent operation, Easterns Automotive Group can encounter thousands of cars with indefinite combinations of trim lines and mileage. Price Advisor seamlessly addresses those unique challenges as the go-to resource for pricing information. Bassam says another advantage is that Kelley Blue Book Price Advisor keeps car shoppers on his website without having to go anywhere else to validate his prices. "I don't want them leaving my website," he says. "If they have to go to another place to verify pricing, then there is a risk they could see another car or another dealership or another advertisement."
"I want to provide the information in my own setting and measure that process from start to finish. So putting Price Advisor on my website makes a big difference."
Price Advisor Complements Overall Business Strategy
While there is no one magic bullet solely responsible for Easterns Automotive Group's success, a meaningful part of their approach is a strong commitment to pricing transparency — and that's where the Kelley Blue Book Price Advisor shines. Bassam acknowledges that, since including Price Advisor on its website, Easterns has seen an uptick in key performance indicators, including:
Web Metrics
Increased Vehicle Detail Page (VDP) views
Longer visitor time on site
Lower bounce rate
Sales Metrics
Increased sales leads and appointments set
More closed sales overall
Increased sales velocity
Overall Metrics
Faster and easier transactions
Higher sales employee satisfaction
Coupled with the right inventory and optimized sales structure, this automotive group is commanding more attention from in-market shoppers, setting more appointments, and selling more vehicles. "It's a cleaner process for the customer than before," says Bassam. "And it's a faster, easier close for our sales team."
Case Study
Since including Price Advisor on its website, Easterns has seen an uptick in key performance indicators, including online metrics, sales metrics, and operational metrics.
Download
Tags