Fight Margin Compression
Use Online Channels to Bolster Your Acquisition Strategy More Profitably and Efficiently
Monday October 10, 2016
Article Highlights
Dealers can protect their profitability by driving more speed and efficiency into their wholesale operation, particularly by using technology to quickly acquire auction cars.
The most proficient dealers have expanded to acquire vehicles via simulcast and online auction sites and also use technology to facilitate the transfer of the purchased units back to the dealership.
Dealers can use technology and tools to calculate each unit's profit potential before they bid. Condition reports and Post-Sale Inspections are important ways to mitigate the risks of buying at auction.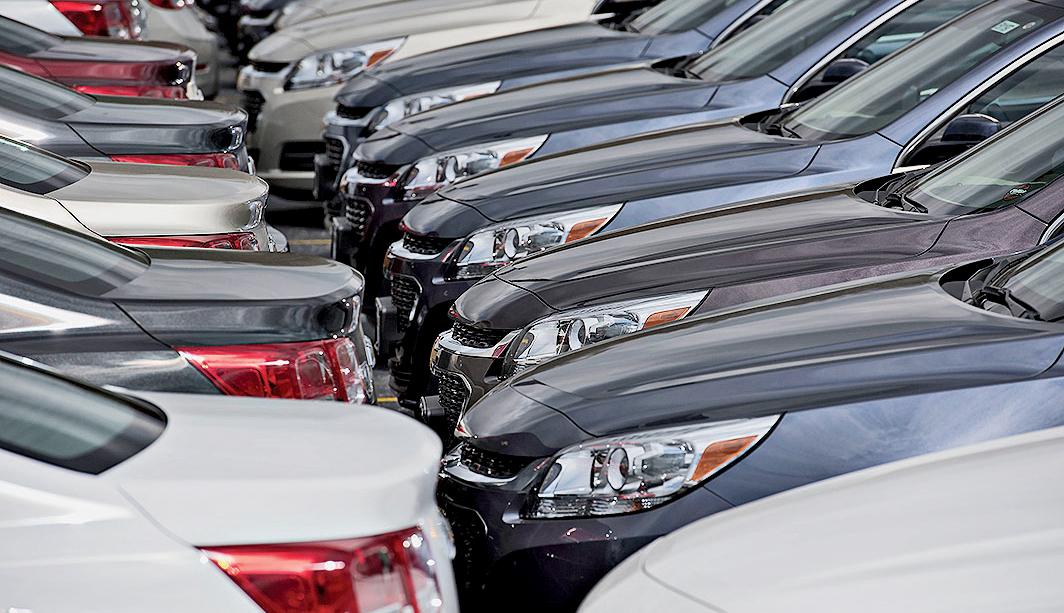 Has there ever been a time when you weren't looking for a better, more efficient, more affordable way to source inventory? Probably not. But the pressure is even greater today because profit margins are tighter than ever before. While you may not be making as much money per vehicle as you used to, there are ways that you can protect your profitability by driving more speed and efficiency into your wholesale operation. And the timing couldn't be better: millions of off-lease vehicles are coming in and used car sales remain strong.

The Manheim Vehicle Solutions Study found that just 52 percent of wholesale buyers are satisfied with their current process. What this points to are lack of awareness and understanding of resources that are readily available to help wholesale buyers make the right decisions and conduct their business. Essentially, though, it's rethinking processes and taking advantage of the technology and solutions that can help create more streamlined, efficient and profitable operations.
Do a Better Job at Sourcing Auction Cars
Auction cars are always available, but one of the biggest challenges dealers face is acquiring auction vehicles efficiently and with precision based on real and timely data. The days of "gut-driven guesswork" can, and should, be put to rest. Today, your best bet is to use tools to evaluate and buy vehicles that are in demand in your market. You can then look at the best inventory from a wide net of resources for quicker, more confident decisions.
Four operational imperatives for sourcing auction cars
1. Know exactly what to buy. Many dealers and their buyers believe they know the exact cars that will best advance their used vehicle objectives and don't do much homework before they arrive at an auction. The cars they purchase end up being aged units, month after month. What gives? The bidding and buying process doesn't always lead to profitable outcomes, either. The challenge is the variety and number of available auction cars coupled with today's hyper-competitive retail market. It's impossible, without the help of technology and tools, to know how a specific vehicle's color, equipment, mileage, ownership history and trim level will play against competing cars. Dealers who reinvent their acquisition strategies use this car-specific precision to build auction-shopping lists that include alternative choices if they can't get the cars they want the most.
Today, there are digital sourcing solutions that are built to tackle the most complex challenges in wholesale buying. They let you source inventory from auction houses in every corner of the country — Manheim, ADESA, SmartAuction and more — with no preferential treatment given to any auction. Cars are automatically ranked by profit potential.
2. Know where to buy. With increased competition to acquire auction cars, many dealers recognize they need to expand their sourcing efforts beyond the local auction. The challenge then becomes how to easily and efficiently determine the auctions where the cars that best fit your retailing objectives are available.
The most proficient dealers and buyers have expanded to online channels — simulcast and online auction sites where you can bid, buy and sell 24/7, all of which can be done from a mobile device! Currently, only one-third of dealerships attend a simulcast auction every month according to Manheim data, which presents an opportunity for savvy dealers to become "leaders of the pack" in wholesale operation innovation. These early adopters also use technology to facilitate the transfer of the purchased units back to the dealership. The end result: They are more efficient and productive buyers every time they go to an auction.
3. Buy at the right price. Dealers who reinvent their auction sourcing efforts eliminate the guesswork that once guided their bidding on auction cars. Today, they know the maximum they can afford to pay on every vehicle. How? They use technology and tools to calculate each unit's profit potential (accounting for the costs of acquisition, transportation, reconditioning, a pack, etc.) before they make a first bid. Of course, it takes discipline to stick to these parameters in the lanes (even in the "virtual" lanes), particularly if you're frustrated by losing cars you really wanted. But the bidding precision, and accompanying discipline, are critical to ensure you make your margin when you acquire an auction car.
4. Do it all faster. With technology, dealers and used car managers can prepare for auctions in minutes, not hours, and more dealers are starting to realize the benefits and efficiency of acquiring inventory through online channels. In fact, Manheim reports that online transactions in 2016 are up 22 percent year-over-year, with 18 million total visits and over 400,000 units sold through digital channels, 250,000 of which were sold on OVE.com, its online auction site.1 The time saved by acquiring inventory online can contribute to dealers' speed to market, and as a result, faster turn, with fewer cars sitting in inventory for longer times. This increased velocity can ultimately lead to improved dealership profitability. Dealers who are not tapping into the efficiencies gained from digital acquisition channels are already falling behind the curve.
Online channels cut down on trips to auctions where the cars you need may not be. Not only do these online channels save time and and travel expenses, they let you expand your buying radius, giving you access to more vehicles that align with your vehicle selection strategy and inventory needs. In an effort to gain even more efficiency and speed as they acquire auction cars, some of the most progressive dealers now rely solely on online sources, a time-saving shift that improves showroom efficiency enabling managers to be in the dealership, working deals and managing their teams. TIP: When acquiring vehicles from further distances that may take longer to reach your dealership, have a process in place to get those cars listed online before they arrive at your lot.
Mobile apps are another way to speed up the buying and selling process so you can do business from anywhere. Manheim's mobile app, for example, lets you perform full vehicle searches and edit saved searches; scan a VIN or QR code and get the Manheim Market Report (MMR) automatically; view vehicle condition and history reports; manage your Workbook; and place bids or purchase vehicles from anywhere—even if you're at an auction and want to bid on inventory in a different lane.
These apps let you manage purchases; check your buying activity; view your purchases; and set up and receive post-sale inspection (PSI), title and vehicle availability notifications.
Mitigating Risk
Granted, there is a wealth of inventory online and now multiple ways to acquire that inventory online. But, just like a consumer buying a vehicle, most dealers like to "kick the tires" to make sure they're not purchasing a problem vehicle. Let's face it, all inventory acquisitions carry a measure of risk, and acquiring inventory online might seem like an even riskier proposition. However, there are solutions available to help you mitigate risk and offer peace of mind with your online purchase.
Rely on condition reports to avoid problem vehicles. Buyers are three times more likely to bid and four times more likely to purchase a vehicle with a condition report, which is an important consideration for sellers. And for buyers, units with condition reports have a 37 percent decrease in arbitration. Over the last two years, there has been unprecedented volume increase in condition reports at Manheim auctions, averaging around 20 percent year-over-year growth. Dealer adoption is driving the "take rate," as more than 70 percent of large dealers and 46 percent of small- to mid-sized dealers now use real-time data about a vehicle's current condition to make better decisions, especially when acquiring online.2
If arbitration is a concern that is preventing you from embracing online channels, consider wholesale vehicle purchase protection programs. Some of these programs offer automatic purchase protection applied to every vehicle you purchase. Having this type of safety net allows you to decrease recon costs, eliminate costly mistakes and expand your inventory mix. Most offer everything from a basic frame check to a full buy-back guarantee.
Post-Sale Inspections (PSI) are another smart option that don't require you to be at the auction. Typical PSIs inspect the frame/unibody, the engine and transmission and can come  with 7- or 14-day guarantee options.
The benefits of Condition Reports, PSIs and purchase protection are significant and provide confidence you're making the right purchase so you can minimize unexpected repair costs. They give you peace of mind with on-the-ground information and save time because you can do everything before the vehicle even leaves the auction. 

Tapping into the Retail Market Online to Source Inventory
Two-thirds of car shoppers have a vehicle to trade. Between KBB.com and Autotrader.com alone, there are 30 millions shoppers a month, and 21 million of them have a car to trade. With the right trade-in tools, dealers can find and acquire a wide variety of inventory with less risk and cost. These tools can also increase sell-for-cash and trade-in vehicles coming to your dealership, which can help improve your ability to acquire high-demand used vehicles for your market.
There are online trade-in valuation tools available from third-party partners that can help you connect with vehicle disposers online as well as help to validate the process for car buyers. Think about it in terms of documentation replacing negotiation. Trade-in valuation tools offer a trade-in range to car buyers online and provides a reality check on the true condition of their vehicle while demonstrating how much dealers may be willing to pay for it within the current marketplace. In turn, this information may help minimize contentious negotiations in the store about the value of their vehicle while creating opportunities for dealers to acquire inventory.
1Manheim Product Management & Cox Automotive Centralized Analytics
2Manheim Sales Data