White Paper:
What Drives Shopping Choices for Vehicle Re-Purchasers?
Wednesday February 17, 2016
Article Highlights
An analysis of the 2015 survey of 38,169 respondents showed that 84% of new car buyers and 73% of used car buyers surveyed bought a vehicle to replace the one they were driving at the time of purchase.
A good dealership experience has a significant impact on whether repurchasers shop around to multiple dealers or return to a dealership where they had prior experience.
Consumer loyalty to a dealership is stronger than consumer loyalty to vehicle make. Buyers go back to a dealership, even if not for the same make/model, which is particularly true for used car buyers.
Since 2010, the Autotrader Sourcing program has been conducting an annual survey of consumers who bought vehicles from over 400 franchise and independent dealerships across the U.S. The research provided insights into a variety of important questions about these vehicle "re-purchasers," including what percentage of them:
Returned to buy from the same dealership
Re-purchased the same make
Re-purchased the same make and model
The survey also provided a glimpse of what drove their shopping decisions. Be sure to check out these additional shopper insights to see how you can better engage today's customers.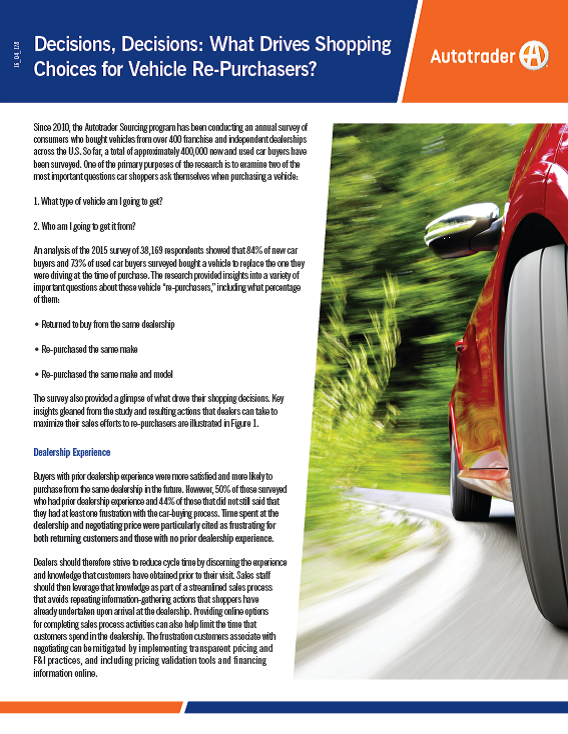 What Drives Shopping Choices for Vehicle Re-Purchasers?
See the full white paper to learn more.
Download
Tags