Data Point
Big Truck and Midsize SUV Shoppers Considered Downsizing as Gas Prices Soared
Friday August 26, 2022
Article Highlights
The full-size truck segment fell to No. 8 from No. 3 in shopping during peak gas prices.
Midsize SUV shopping stayed No. 1, but volume declined as shoppers looked at smaller SUVs.
Old shopping behaviors resumed as gas prices retreated.
High gas prices caused truck and SUV shoppers to consider downsizing to smaller, more fuel-efficient versions of trucks and SUVs, according to a Cox Automotive analysis of consumer shopping data on Kelley Blue Book. Large truck shoppers also considered electric trucks. Midsize SUV intenders added hybrid versions to their shopping lists.
Top 10 Growth Segments: July 2022 Versus June 2022
Fullsize Trucks and Midsize SUVs Demonstrated Shopper Enthusiasm While EVs and Hybrids Declined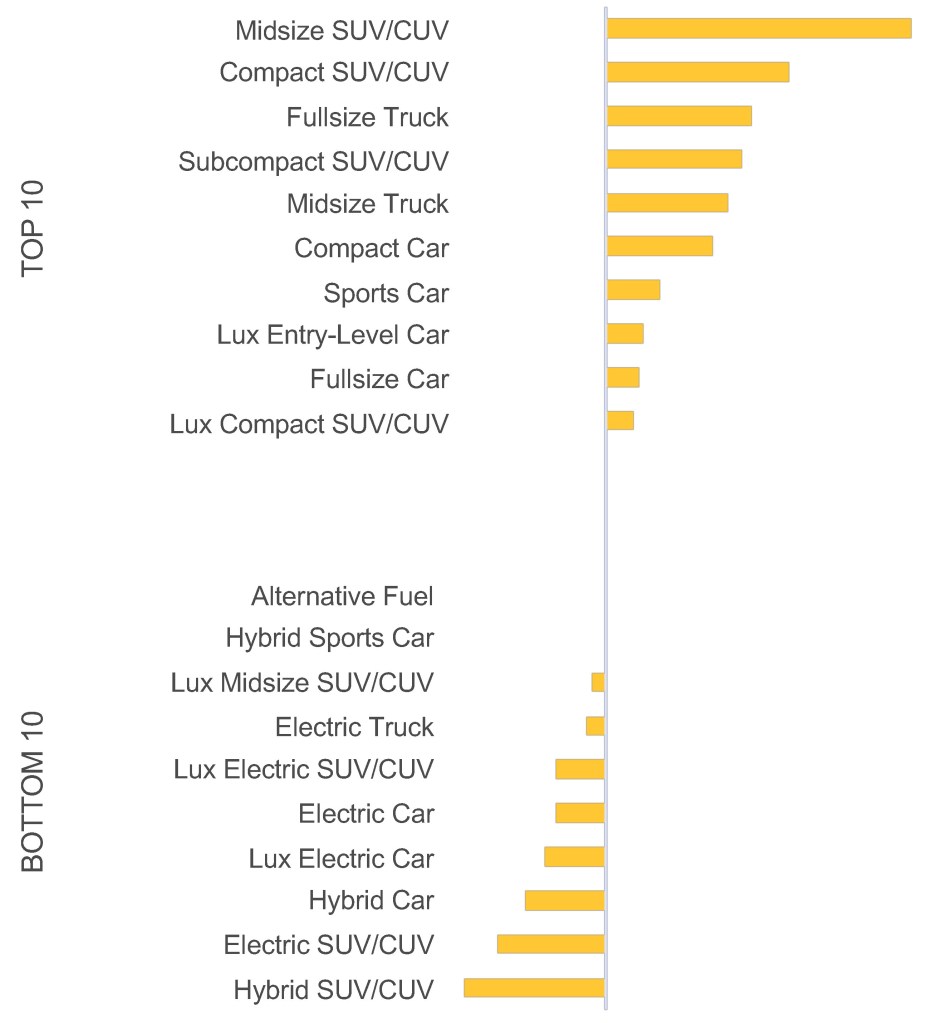 Before gas prices rose, full-size pickup trucks were the third most researched segment on Kelley Blue Book. The higher gas prices pushed the segment down to No. 8 as full-size truck shoppers looked at midsize trucks, midsize, compact and full-size SUVs and electric trucks. Shopping for electric pickup trucks has risen by 57% since January due to gas prices and the introduction of the Ford F-150 Lightning, GMC Hummer pickup and announcements about electric versions of the Chevrolet Silverado, GMC Sierra and Ram 1500.
Inventory of full-size pickup trucks has been building. Of the 30 best-selling models in the 30-day period ended Aug. 9, the most recent data, shows the Ram 1500 with the highest inventory at 88 days' supply, followed by the Chevrolet Silverado at 71 days' supply. The Ford F-150 has the fifth most inventory with a 48 days' supply. Gas prices combined with affordability challenges and falling housing starts are causes.
Midsize truck shopping has risen 12% this year, increasing as gas prices climbed. Shopping for midsize and full-size trucks had the same volume for two straight months when gas prices were at a record.
Midsize SUV has held as the most-shopped segment on Kelley Blue Book. However, shopping volume has been in decline since the beginning of the year, at least partly due to high gas prices and possibly affordability issues. July, when gas prices retreated, marked the first month that the shopping trended upward this year.
Midsize SUV shoppers turned to smaller SUVs and hybrid versions of SUVs as gas prices soared. Hybrid SUVs became more prominent among SUV segments as the third most popular SUV segment during record gas prices.
As reported earlier, record high gas prices also helped drive shoppers to look at electric vehicles and hybrids in the first half of 2022. Shopping for EVs has risen by 38% since the start of the year. In addition to gas prices, new EVs are hitting the market every month. Hybrid shopping has climbed by 12% since the start of the year. However, hybrids are in the shortest supply of any segment.
The Kelley Blue Book Brand Watch report, a consumer perception survey that weaves in shopping behavior and consideration for electrified models – EV and hybrids – were at near-record levels in the second quarter due to high gas prices but also more selection of vehicles. Of all shoppers, 27% considered an electrified vehicle – 19% considered a hybrid/plug-in hybrid, and 12% considered an EV.
As gas prices have retreated, consumers are falling back into familiar shopping patterns to some degree. Shopping for EVs and hybrids lost share in July and so far in August. Full-size shopping has inched up with the segment now at No. 6 in terms of most-shopped segments.
The current situation is reminiscent of the spring and summer of 2008. Gas prices spiked and consumers scrambled to buy small cars and hybrids while ditching their big trucks and SUVs. But in a matter of months, when gas prices settled back down, consumers returned to buying bigger, less fuel-efficient models.
However, signs indicate consumers may not fully return to their old ways. The Kelley Blue Book Brand Watch report shows Affordability and Fuel Efficiency, two of the dozen most important factors to car shoppers, are increasingly important to consumers. Non-luxury shoppers ranked Affordability at No. 3, closing in on Safety, which has long been No. 2. Fuel Efficiency ranked No. 6 and rising in concern.
Similarly, Fuel Efficiency has increased in importance over the past five years for luxury shoppers as well, coming in at No. 6 from No. 10 in the most important factors to consumers.
---
Michelle Krebs is executive analyst at Cox Automotive.