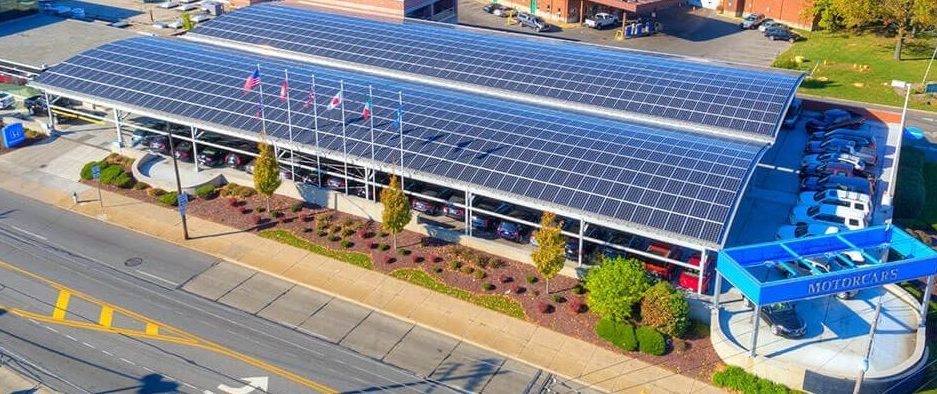 Cox Automotive Honors Car Dealerships for Environmental Achievements
Fourth Annual Leadership in Sustainability Award to be Presented in January 2019
As a part of Cox Enterprises, Cox Automotive is committed to doing business the right way, not just the easy way.  That means continuously working to reduce the company's environmental impact through the national sustainability program, Cox Conserves. Environmental and social responsibility is part of everyone's job, integrated into daily work and business operations.
Cox Automotive is proud to recognize car dealerships that are also raising the bar on sustainability standards and implementing practices that make a difference. Its Leadership in Sustainability Award spotlights car dealerships for their environmental accomplishments. Launched in 2015, the award comes with a cash prize for the winner to fund an additional sustainability project.
The first honoree, Matick Chevrolet of Redford, Michigan, had completed a $9 million LEED renovation and expansion of its 108,500 square-foot facility. This "green" enterprise added energy management systems, LED site lights, rooftop skylights, and CO2 monitoring. The 13-acre dealership also installed electronic vehicle charging stations, a wireless heating and cooling system, and launched a campus-wide recycling effort.
Karl Zimmermann, owner/operator of the Matick Automotive Group says, "Being green is not just a trendy label. Our team at Matick Chevrolet strives for continuous improvement in all facets of sustainability—from our building operations to General Motors' commitment to energy-efficient vehicles."
"Our future depends on it."
With the award's financial prize, Matick Chevrolet purchased a trash compactor to reduce landfill use and the number of fossil-fuel burning trips required by the dealership's recycler. They also provided seed money for a nearby urban/indoor farming business. Matick Chevrolet's ongoing and advanced green initiatives rank among the most progressive in the automotive dealership environment.
Subsequent honorees include Patriot Subaru of Saco, Maine and Motorcars Honda of Cleveland, Ohio. Patriot Subaru implemented a comprehensive "green" strategy. Its in-house green committee instituted more than 70 environmentally friendly efforts from complimentary bike use to daily composting to zero irrigation landscaping to an on-site vegetable garden—a spot for weekend picnics. The business is a zero waste to landfill site, eliminating trash sent to landfills and incinerators.
Motorcars Honda was recognized for being the first carbon-neutral dealership in the world. Its singular solar array generates 50 to 70 percent of the dealership's energy needs. And to conserve water, Motorcars Honda uses recycled water in their Rainforest Car Wash. The dealership also created a recycling program for staff and customers to use.
Cox Automotive celebrates the efforts underway at car dealership to do the right thing for people—and the planet. Stephanie Valdez-Streaty, Cox Automotive's Senior Director of Corporate Responsibility, says the Leadership in Sustainability Award maximizes the environmental impact by elevating the visibility of leading-edge dealerships.
"We want to raise their public profile to inspire others to come aboard," she explains. "The collective effort adds up."
Cox Automotive and its dealer clients are demonstrating their commitment to shaping a better world through environmental stewardship. The Leadership in Sustainability Award judges appreciate both the significant and the sometimes-difficult-to-measure savings from reduced energy use at car dealerships across the country. The next winner will be announced at the National Automobile Dealers Association (NADA) Show in January 2019.